Registrations Will Open in the Summer of 2019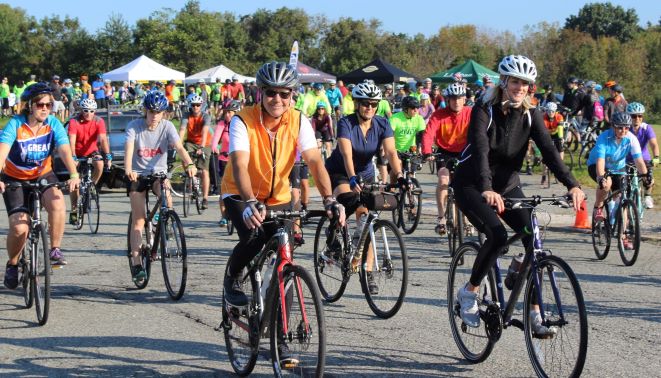 The Annual Ride for the River will return in 2019. Schuylkill River Greenways organizes the event and it's held in partnership with the Sly Fox Brewery's Can Jam Music Festival. There is a 16-mile and 40-mile ride option that takes place along the Schuylkill River Trail between Pottstown and Reading. Check back in the summer of 2019 for registration details for the upcoming 4th Annual Ride for the River.
The 3rd Annual Ride for River Took Place on Sept. 29, 2018
About 300 bicyclists participated in the annual bike ride which began and ended at Sly Fox Brewery's Can Jam Music Festival in Pottstown. The first wave of riders completed a 40-mile route by traveling to Reading then returning to Pottstown. The second wave of riders did a 16-mile route where they stopped in Union Township before heading back to the music festival.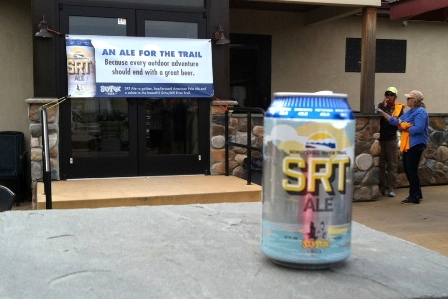 Ride for the River not only highlights the trail and river but it's also a fundraiser for the trail. Sly Fox has partnered with Schuylkill River Greenways for the past three years by producing SRT Ale, an ale that benefits the Schuylkill River Trail. During the music festival, Sly Fox presented representatives of the Schuylkill River Greenways National Heritage Area with a check of $5,630 from the sales of this year's SRT Ale. The ale has been a seasonal offering but attendees of the 2018 music festival were the first to find out SRT Ale will now be available all year long.
More About SRT Ale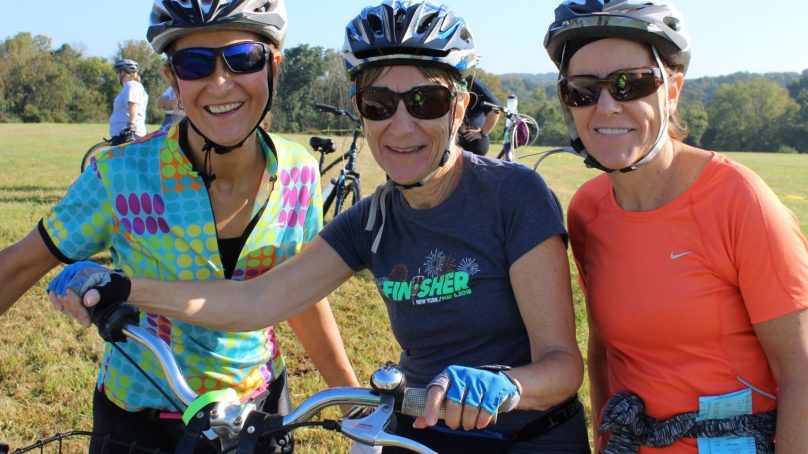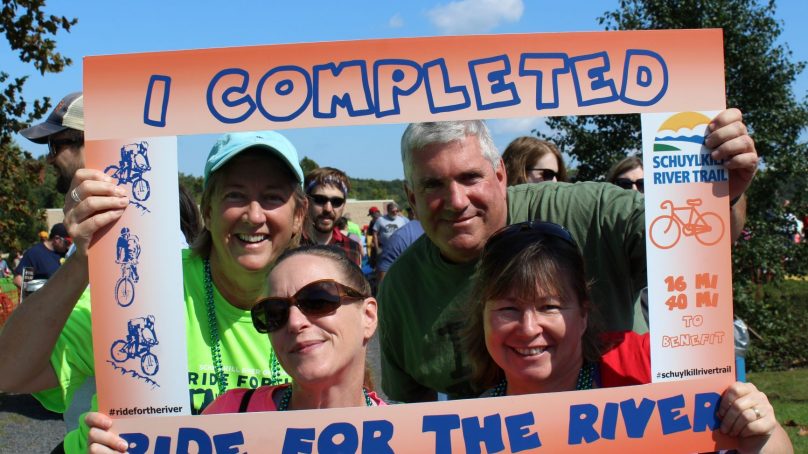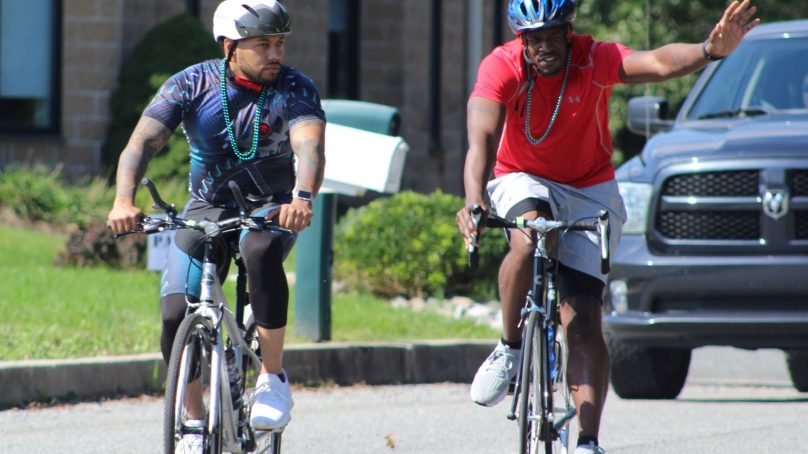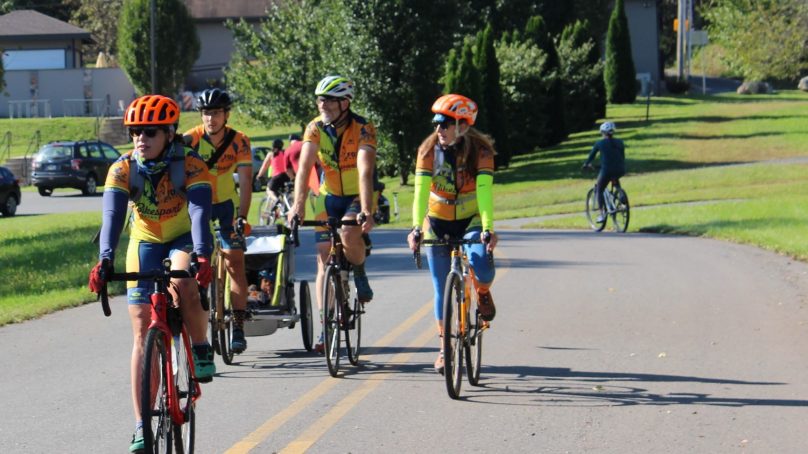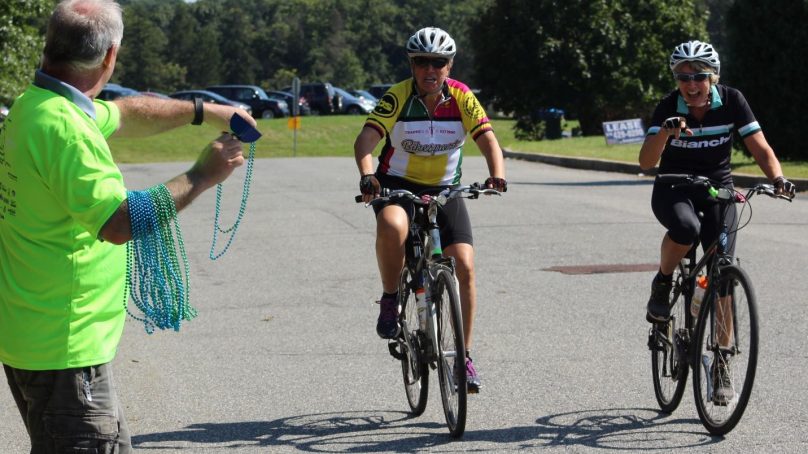 Click for More Photos
Special Thanks to All Our Volunteers!!!
We couldn't have organized this ride without the  more than 60 volunteers who helped with planning, trail improvements, route markings, road crossings, registration, parking, ride support, bike repairs, rest stops and more. We extend a sincere thank you to all volunteers, fire police and members of our planning committee who worked hard to make Ride for the River a success. We also extend our thanks to BikeSport for providing on-ride support as well as to Riverbend Cycles, Trek and JB's Bike Shop for performing safety checks and providing bike assistance to riders.
Special Thanks to All Our Sponsors & Partners!!!
Tompkins Vist Bank * L.L. Bean * Campbell, Thomas & Company * Met Ed (First Energy Foundation) * Cedarville Engineering Group, LLC * Pottstown Area Health & Wellness Foundation * Lewis Environmental * Translogistics, Inc., O'Donnell, Weiss & Mattei, P.C. * Simone Collins * Tom Hoffman * Delaware Regional Planning Commission * Wilson Consulting * Traffic Planning & Design, Inc. * Mishock Physical Therapy * Schuylkill County Visitors Bureau * Chester County Cider Works * Barbara Akins Certified Public Account * B & G Glass* MGK Industries * DBA The Swisher Studio * The Circuit Trails * Rails to Trails Conservancy * Virtual Farm Creative * Giant Food Stores * Redner's Markets * National Park Service* Dept. of Conservation & Natural Resources * Bike Sport, Trek Bicycles of Pottstown * Sly Fox Brewing Co. * Riverbend Cycles * Berks Nature * JB's Bike Shop
We also thank the following Fire Companies who provided support at road crossings:
West End Fire Company
Monarch Fire Dept.
Geigertown Fire Police
Cumru Fire Police
About Ride for the River
Ride for the River is designed to allow cyclists to explore the Schuylkill River Trail while supporting the Schuylkill River Heritage Area, which operates and maintains the trail in Berks and Schuylkill Counties and works to improve the entire trail. All rides begin and end at Sly Fox's popular Can Jam Festival located at 331 Circle of Progress Dr., in Pottstown. Both the 16- and 40-mile options take place primarily along the flat, crushed stone Schuylkill River Trail, with about five miles of on-road riding between the festival and the trail. The on-road section has some hills.
All riders receive voucher for free food and one free beer! Fully stocked rest stops! Ride support! Complimentary pre-ride bike safety checks! Well marked route!
Optional hill climb! Add four miles to your ride with an optional hill climb along the Hopewell Big Woods Trail that connects to the Schuylkill River Trail in Union Township. The Big Woods Trail consists of a nearly 2-mile gentle upgrade with stunning views of Monocacy Hill as you near the top. You can rest at the top and enjoy an easy ride down back onto the Schuylkill River Trail. This is a gravel trail which could have some loose areas, so riders should be cautious on the descent.
40 mile ride (44 miles with optional hill climb) 9 a.m. start time: Pottstown to Reading and back along the Schuylkill River Trail with a short on-road section to and from the brewery.
16-mile ride (20 miles with optional hill climb) 9:30 a.m. start time: Union Township Recreation Area and back along the Schuylkill River Trail with a short on-road section to and from the brewery.
Ride the River FAQs
About Can Jam Festival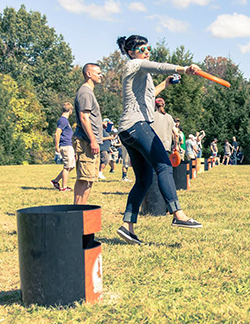 Sly Fox Brewing Company's CAN JAM Music Festival is curated to feature rising regional independent talent, authentic and original, just like Sly Fox beers! A free day of amazing music in the beautiful pastures adjoining the brewery, accentuated by one of the largest KanJam® tournaments on the planet.
The Can Jam Music Festival celebrates Sly Fox Brewing Company's role as an early adopter, evangelist and promoter of cans—the hottest packaging trend in the craft brewing industry. Learn more about Can Jam.