Trail Status During COVID-19
As of April 4, 2020, all sections of the Schuylkill River Trail are open to the public but park amenities may be closed due to the COVID-19 pandemic. Get the most current information about each trail section through our Trail Partners Page.
Check Status of Each Trail Section
Check Individual Management Sites for Updated Information 
Please continue to check county and local municipality recreation websites for updates on the status of public facilities in your area. Notices about closures and other guidelines concerning the coronavirus disease are constantly evolving.
Please Use the Trail Safely During COVID-19
Download Trail Safety Flyer
We ask you to please keep the national and state recommendations of social distancing and hand washing in mind while using the Schuylkill River Trail. The National Recreation and Park Association has provided tips and information about keeping a safe social distance in parks and on trails during the COVID-19 pandemic. Some of these tips are listed below.
Recommendations for physical distancing & trail safety during COVID-19
Follow CDC's guidance on personal hygiene prior to heading to trails — wash hands, carry hand sanitizer, do not use trails if you have symptoms, cover your mouth and nose when coughing or sneezing, etc.
Observe at all times CDC's minimum recommended social distancing of six feet from other people. Practice it and know what it looks like. Keep it as you walk, bike or hike.
Warn other trail users of your presence and as you pass to allow proper distance and step off trails to allow others to pass, keeping minimum recommended distances at all times. Signal your presence with your voice, bell or horn.
Note that trail and park users may find public restrooms closed — be prepared before you leave and time outings so that you are not dependent on public restrooms.
 Bring water or drinks — public drinking fountains may be disabled and should not be used, even if operable.
Bring a suitable trash bag. Leave no trash, take everything out to protect park workers
Voted Best Urban Trail
In 2015, the Schuylkill River Trail took first place as the Best Urban Trail in USA Today's 10 Best Readers Choice poll.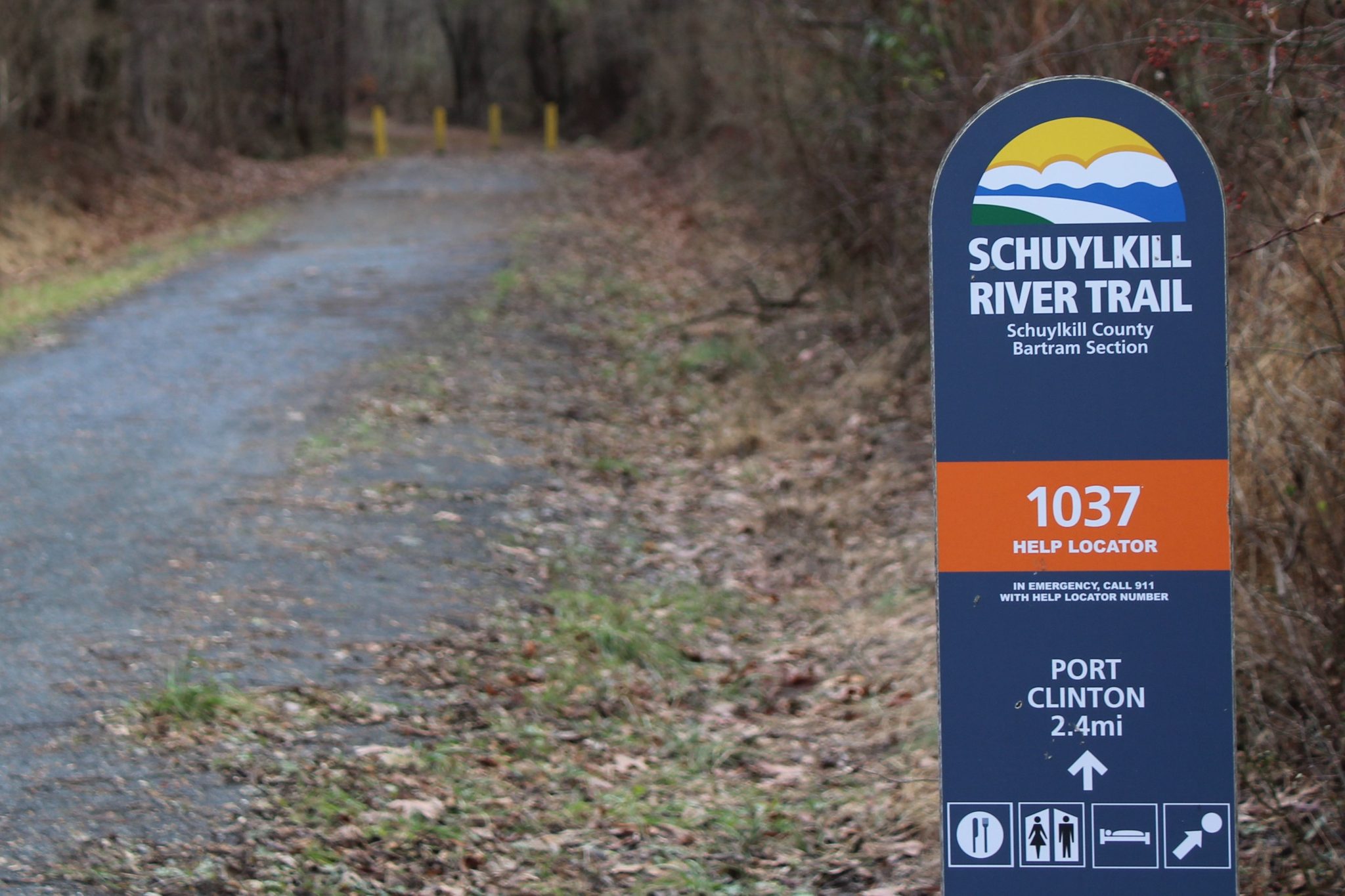 View The Interactive Map
View Trail Alerts
Hit the Trail!
Welcome to the Schuylkill River Trail, a multi-use path that will extend 120 miles from Frackville in Schuylkill County, through Montgomery, Chester and Berks Counties to Philadelphia. It travels through the historically rich region of southeastern Pennsylvania. The trail passes through rural, agricultural, suburban, urban, and industrial landscapes. The Schuylkill River (pronounced SKOO-kill), Dutch for Hidden River, is where the American, Industrial and Environmental Revolutions were born.
Most of the trail is built over abandoned railroad lines. Today, over 75 miles of paved and crushed stone trail are open to the public. Along its path, trail users can see evidence of several centuries of industrial development, canal navigation, railroad transportation, quarrying of limestone and iron ore, and the production of iron and steel.
Connecting the Trail
The Schuylkill River Trail (SRT) is owned, managed, maintained and developed by a number of organizations who have come together to form the Schuylkill River Trail Partners. Until several years ago, the Schuylkill River Trail existed in unconnected sections known by the names given to them locally. Enormous efforts have been made to connect these sections, close gaps, create a unified sign system and promote the trail as a single entity. This work continues with plans to close several remaining gaps, and to extend the trail in Philadelphia at the lower end and in Schuylkill County at the upper end.
Current Trail Projects
Support the SRT
Your membership donation supports the Schuylkill River Trail and the many other projects and programs that benefit the entire Schuylkill River region. Schuylkill River Greenways works with partners to improve trail access, create a uniform sign system, and improve trail amenities. The nonprofit operates and maintains more than 30 miles of the trail in Berks and Schuylkill Counties. Maintenance and upkeep along these sections of the trail are done solely by volunteers. Help us build and complete the Schuylkill River Trail.
Become a Member
AND/OR
Become a Volunteer
Trail Alerts & Updates
Trail Alerts
SRT Thun Section in Birdsboro Closed on May 14 for Tree Work
A 1-mile stretch of the Schuylkill River Trail Thun Section in the Birdsboro area will be CLOSED for tree work Thursday, May 14. The trail closure area will start on the trail section past the Fork & Ale restaurant and will continue west to the Berks County Park area. The closure begins 7 a.m. Thursday, May 14, and is expected to be in effect until 3 p.m. that same day. Signs will be posted in that area of the trail and fencing will be up around the closed area.
This notice was posted on May 14, 2020 & may not be current
Angelica Creek Trail in Reading is Closed 
The Angelica Creek Trail will be closed at the bridge crossing for the next 6 to 8 months due to city sewer repair work.  The trail will be closed from the Schuylkill River Trail at Brentwood Drive to the rear gate of the Waste Water Treatment Plant. The Angelica Creek Trail is near The Berks Nature/Nature Place in Reading and connects to the Schuylkill River Trail near the Brentwood Trailhead. Contractors estimate the Angelica Creek Trail will reopen sometime between July  and September, 2020. Check for updates about the construction at berksnature.org/trails. 
CLICK HERE to read a Reading Eagle article with more details about the construction project. 
This notice was posted on February 7, 2020 & may not be current
Chestnut Street Bridge in Philly Closed to All Traffic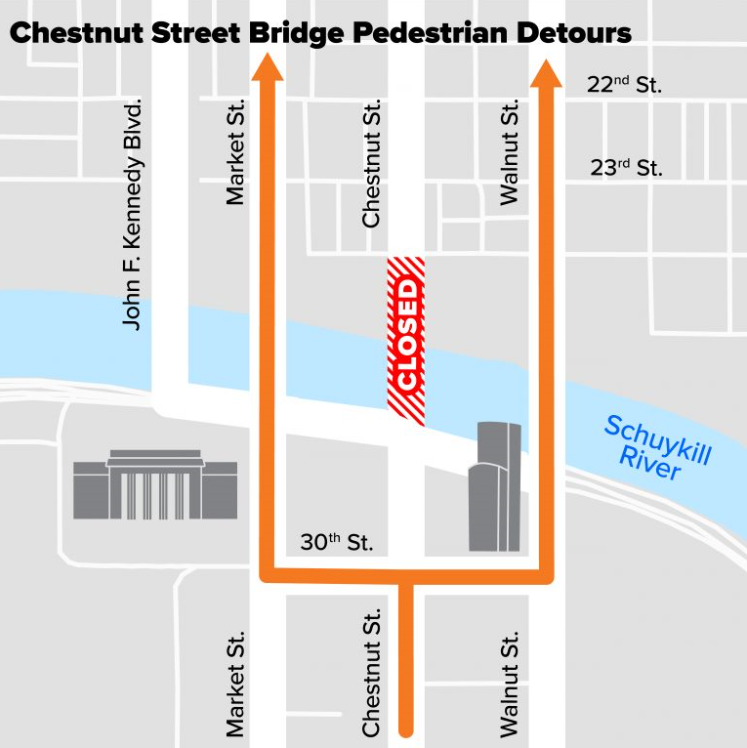 The Chestnut Street Bridge in Philadelphia over the Schuylkill River, between Schuylkill Avenue and 23rd Street, has been CLOSED since July 2019 and will remain so for one year due to major rehabilitation. The bridge will be closed to motorists, pedestrians and cyclists for the duration of the closure. Schuylkill River Trail users will be detoured to the trail access at Walnut Street or Market Street. 
This notice was posted on August 30, 2019 & may not be current
SRT in Auburn is Closed
The Schuylkill River Trail in Auburn, Schuylkill County from River Road to Route 895 is closed through March 2020 to transport coal silts for an environmental remediation project. Find alternative routes using the interactive map.
Trail Events
There are no trail events at this time