SRT Ale Supports the Schuylkill River Trail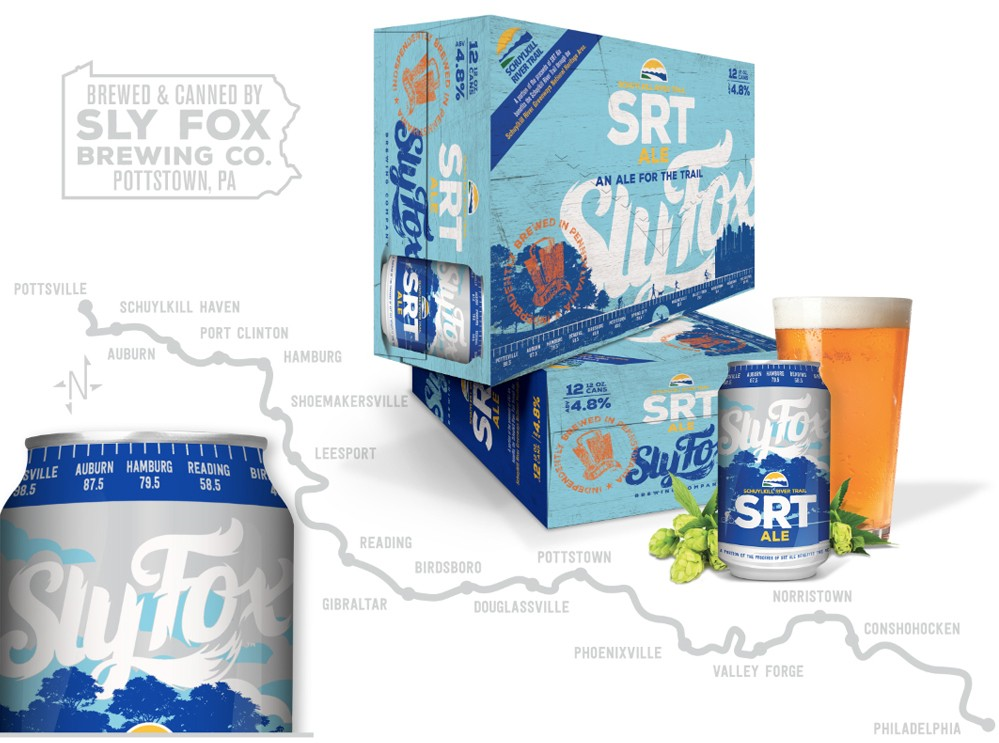 Sly Fox Brewery in Pottstown, in collaboration with the Schuylkill River Greenways NHA, produces SRT Ale to benefit and celebrate the Schuylkill River Trail (SRT).
SRT Ale is a golden, hop-forward ale available in draft. The brewery donates $1 from each case sold (including draft beer) to the trail. It's a great beer to enjoy after recreational activities such running, bicycling and paddling. The SRT Ale packaging design features the SRT logo as well as graphics demonstrating the trail's connection to the community.
SRT Ale was once a seasonal ale available only in spring and summer but is now available all year long.
More About SRT Ale
To date, money donated from Sly Fox from the sale of SRT Ale has totaled more than $18,000. Every September, a check is presented to Schuylkill River Greenways during the Sly Fox Can Jam Music Festival, following the Schuylkill River Greenways' annual Ride for the River event.  Schuylkill River Greenways uses the donated funds toward a Safe Crossings program by adding signs and improving road markings at intersections where the trail crosses major roadways.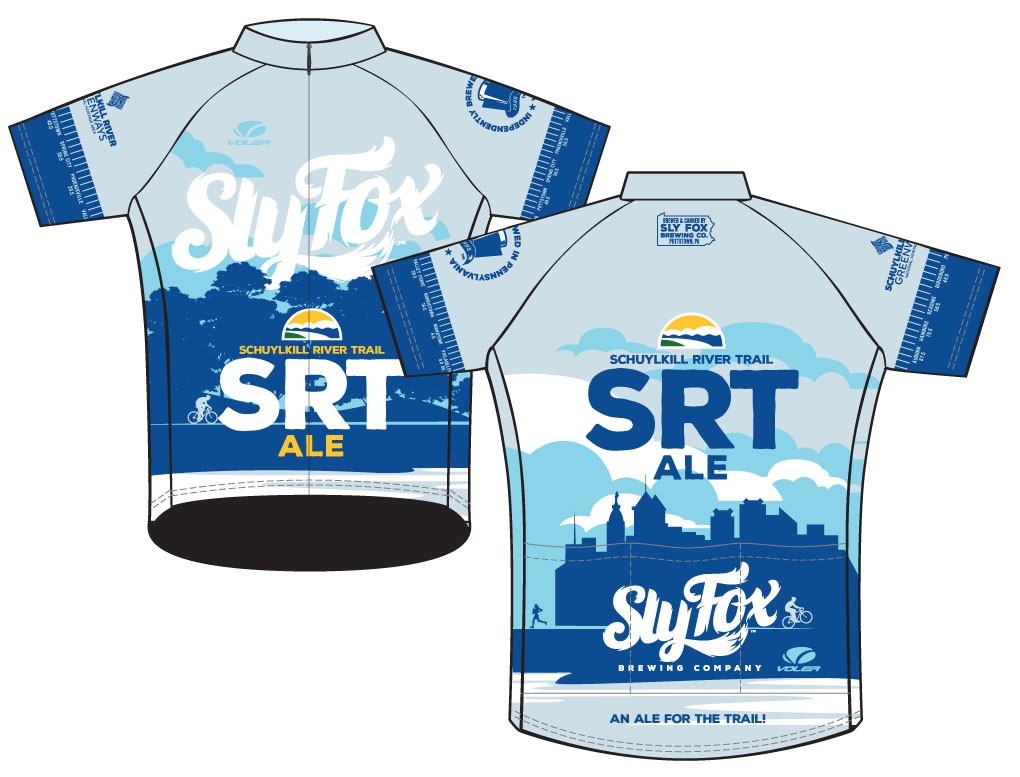 Sly Fox Brewing Company is rolling out an exclusive SRT Ale cycling jersey. The new jersey showcases SRT Ale and will be available soon at the Pottstown Tastin' Room, on the brewery's website, or through Schuylkill River Greenways.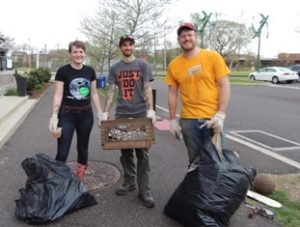 The Schuylkill River Greenways NHA, in partnership with Sly Fox Brewery, will celebrate Earth Day and SRT Ale with a series of recreational events and trail cleanups along the Schuylkill River Trail on April 19 & 20. All volunteer participants aged 21 & over will get a voucher for a free SRT Ale to be used at the SRT Spree festival in Mont Clare or the Sly Fox Tastin' Room in Pottstown on April 20.
Love the can design? Now you can wear it!

We now have SRT Ale T-shirts available! These 100% cotton shirts are designed based on the popular SRT Ale can. All T-shirt sales support Schuylkill River Greenways! Click here to learn more or purchase a shirt.
About the SRT Spree
Every spring, when Sly Fox re-introduces the seasonal SRT Ale, we partner with them on the SRT Spree--a weekend of activities that focus on the Schuylkill River Trail. The Spree includes a 50K relay race, group kayak paddle, and a series of trail cleanups. All events conclude with the SRT Spree festival at St. Michael's Park in Mont Clare.
The Spree began in 2015, with a five-day launch event in which a two-man Sly Fox team journied 110 miles along the Schuylkill River and Schuylkill River Trail, traveling from Schuylkill Haven to Philadelphia. Throughout, they carried SRT Ale flags attached to their kayaks,bicycles, and even on horses. Read more
Hidden River, Public Trail
The Schuylkill River Trail and accompanying Water Trail are well-used recreational resources that follow the length of the beautiful Schuylkill River. Recreational usage on and along the river is growing exponentially as the surrounding population does, and consequently, more resources will be required to complete, protect and maintain the trail. Starting in Pottsville, PA and winding through the Schuylkill Highlands to Philadelphia, the river was historically flanked by railroad lines that have since been converted to paved and gravel trails as part of the Greater Philadelphia's Regional Trail Network. The Schuylkill River National & State Heritage Area, managed by the non-profit Schuylkill River Greenway Association, works to promote and improve the entire Schuylkill River Trail and operates and maintains about 30 trail miles in Berks and Schuylkill Counties. Not only is Sly Fox Brewing Company's SRT Ale contributing to trail upkeep, but the beer is a tribute to every step, paddle and pedal on the trail.