View Interactive Water Trail Map
Water Trail Alerts
Debris Pileups Block Access through Bridges in Schuylkill County  
If you're planning to paddle along the Schuylkill River in Schuylkill County, please be aware that the three railroad bridges between Schuylkill Haven and Port Clinton have debris pileups. SRG has contacted the owner of the bridges to request the debris be removed but have yet to hear a reply. 
This notice was posted on July 4, 2020 & may not be current
The Schuylkill River begins at its headwaters in the mountains near the tiny coal-region town of Tuscarora, PA and flows southeasterly for 137 miles through Schuylkill, Berks, Montgomery, Chester, and Philadelphia Counties on its way to its confluence with the Delaware River. The Schuylkill River Watershed is the most densely-populated region in Pennsylvania. Over 3.2 million people live, work, and play in this 1,700-square mile area (over 1.2 million acres). Almost one-third of the state's population lives within its boundaries and nearly 25% of the U.S. population lives within a five-hour drive of the Schuylkill.
The Schuylkill River Water Trail is a paddler's destination, but recreational motorboaters, water skiers and rowers will also find many places to enjoy the Water Trail. Some of the Schuylkill's tributaries and nearby lakes also offer public access.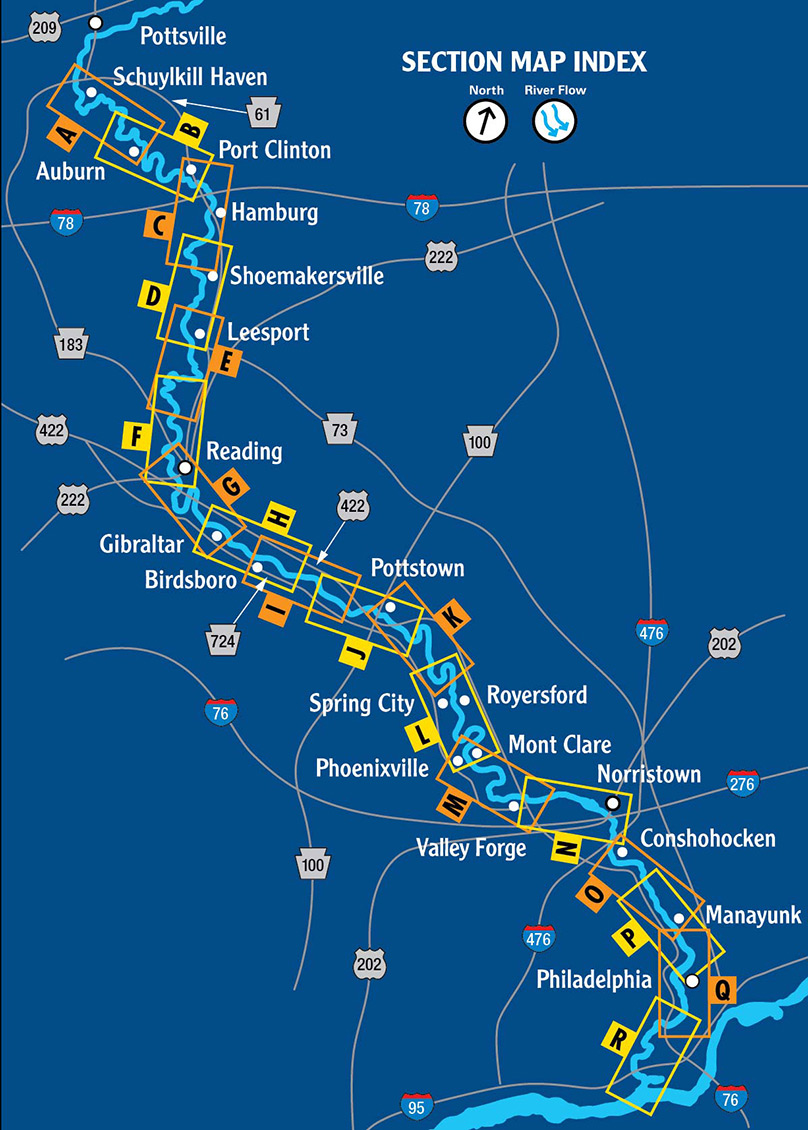 Paddling the Schuylkill River can be a fun way to exercise and enjoy the outdoors. Public access points to the Schuylkill are marked as landings on the Schuylkill River Water Trail. These locations are publicly owned and maintained and meet Pennsylvania Fish and Boat Commission standards. Look for the oval medallion at these launch points. The river can be shallow and rocky at spots, so please be sure to check the water levels in the area you wish to paddle before putting in. Also, please note that there are several dams on the Schuylkill, and paddlers are required by law to portage around these dams. Portages can be lengthy in unimproved locations.
To gauge how much time it takes to paddle from one landing to the other, consult the water trail map to calculate the river miles from point A to B. Typically 4 river miles will take a little more than an hour under normal flow conditions. Or, visually gauge the speed of the river. The average person walks at 3 miles per hour. Is the river moving slower or faster than you can walk?
The maps included on this website are from the printed guide A Paddler's Guide to the Schuylkill River Water Trail.