25th Anniversary 2023
Join us on for the 25th Anniversary Schuylkill River Sojourn!
REGISTER TODAY!

The dates for this year's Sojourn are June 17 to 23, 2023. The pre-Sojourn check-in will begin Friday evening (June 16, 2023) in Schuylkill Haven. The first day of paddling will begin on Saturday, June 17th and end the following Friday, June 23 at Boathouse Row in Philadelphia.The Schuylkill River Sojourn is often described as summer camp since the outdoor expedition combines kayaking, camping, education, and games into one exciting adventure! The Sojourn is an annual 112-mile guided canoe/kayak trip on the Schuylkill River that begins in rural Schuylkill Haven and ends seven days later at Philadelphia's Boathouse Row. Participants paddle 14-18 miles per day. Register for one day, any number of individual days, or the entire week-long journey.
If you are wondering if you should join us on the river this year, the answer is an enthusiastic YES!  We are anticipating many "veteran" Sojourners returning this year, and looking forward to meeting all the first time paddlers who decide to spend a day, a few days or the entire week CONNECTING to the river, to nature, to fellow Sojourners, and maybe to themselves!  This 25th anniversary will be a celebration of Connection and we can't wait to welcome you!
Scholarship Opportunities for 2023
Even with costs rising, we have kept our pricing consistent in 2023 in an effort to keep the Sojourn as accessible and affordable as possible.  Your registration fee includes 3 meals, snacks, water, and programming for each day.  With consecutive days or the full week pass, OVERNIGHT CAMPING IS NO ADDITIONAL COST!  Our Daily shuttle is also included in your registration fee.  (The full week shuttle back to Schuylkill Haven on Friday does have a $35 fee).
Even with the great value that the Sojourn provides, we know it can be inaccessible to some people and our partners at the Schuylkill Action Network have provided scholarship opportunities again this year.  Click below for the scholarship options.
SAN Steward Scholarship-Earn Your Full Week Paddle for FREE!
2023 Sojourn Steward - Request for Proposals
The Schuylkill Action Network (SAN) will be offering one Sojourn Steward scholarship for the 2023 Schuylkill River Sojourn.
Calling all kayakers! SAN is requesting project proposals for the 25th Schuylkill Sojourn.
How do you interact with the river? What questions will you seek to answer on the journey? What stewardship engagement can you bring to your fellow Sojourners?
Additional Sojourn Steward Responsibilities:
Participate in the entire Schuylkill River Sojourn (Starting in Schuylkill Haven on June 17 and ending in Philadelphia on June 23). Click here for more details on the itinerary.
Achieve the project you propose in the application. Projects are encouraged to be related to stewardship of the river and have an element of engagement with other sojourners. (view past projects here)
Post social media updates to the SAN's Facebook, Twitter, and Instagram during lunch and evening breaks. Use the hashtags #ShareTheSchuylkill #SojournSteward and #SchuylkillSojourn, and tag Schuylkill River Greenways and the Schuylkill Action Network.
Engage fellow Sojourn participants.

Several materials and supplies will be provided to the Sojourn Steward by the Partnership for the Delaware Estuary (PDE) and must be returned at the end of the sojourn.
Supplies include:
Full-week Sojourn Registration
Kayak rental (if needed)
GoPro Hero 10
Camera batteries, portable chargers, and accessories
Waterproof phone case (if needed)
MiFi to connect to the internet for social media
Please note that you are responsible for your own transportation at the start and end, camping, and personal gear (tents and gear can be provided if requested).

Application deadline is MAY 5, 2023. CLICK HERE TO FILL OUT THE APPLICATION TO BECOME THE 2023 SAN STEWARD.
https://bit.ly/2023Steward
SAN Diversity Scholarships
2023 SAN Diversity Scholarships
The Schuylkill Action Network (SAN) will provide diversity scholarships to Sojourn participants including people who identify as African American, Black, Indigenous, Hispanic, Latinx, and/or Asian & Pacific Islander. Participants will be chosen based on application questions displaying interest in the Schuylkill River and outdoor recreation.
Scholarships will include registration fees and kayak rental costs (including paddle, life vest, and dry bag) for a participant and a friend for up to 2 days of the Sojourn. This scholarship aligns with the SAN's values and mission that the Schuylkill River, clean water, and outdoor recreation are for all. We hope to continue forging connections for underrepresented or systematically excluded communities share in the Schuylkill River.
Before completing this application, please click HERE to learn more details about the 2023 Schuylkill River Sojourn taking place from June 17 through June 23, including the itinerary, packing lists, and other general instructions and policies.
The sojourn for ages 8 and up. If a young guest would like to apply, then a guardian must be their 'friend'.
The application deadline is MAY 5, 2023. CLICK HERE TO FILL OUT THE APPLICATION.
https://bit.ly/2023Diversity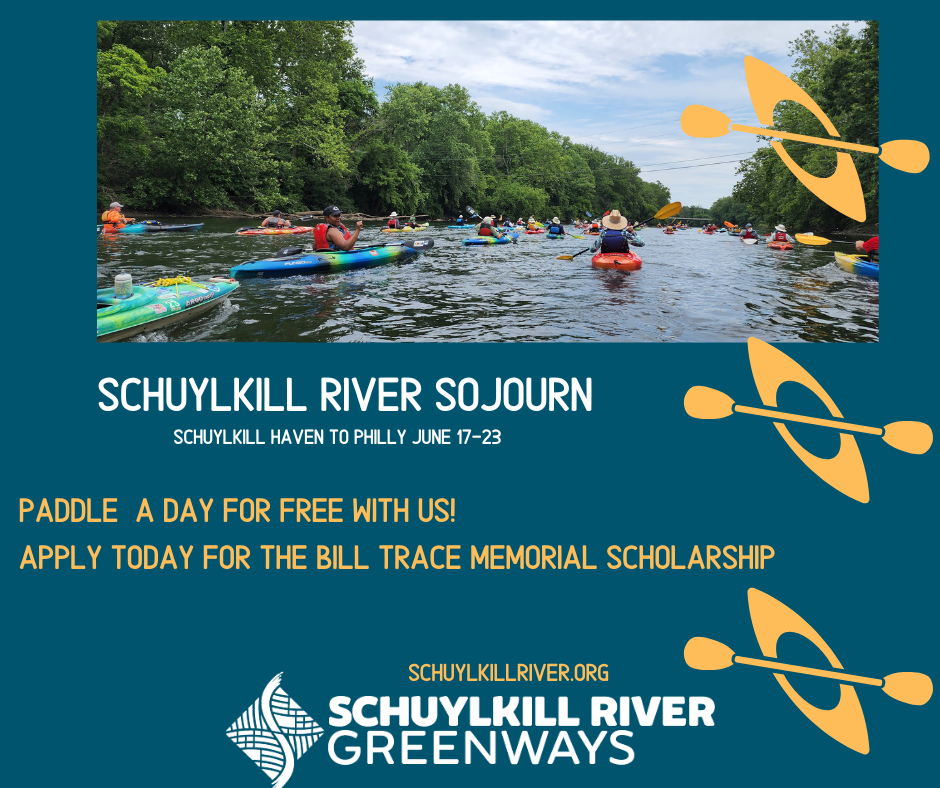 BILL TRACE SCHOLARSHIP THROUGH SCHUYLKILL RIVER GREENWAYS
This scholarship is open to a pair of two people who have never paddled the Sojourn for a free one-day trip. The award was established in memory of Bill Trace, a regular paddler on the Sojourn before he passed in 2014.
For more info on what to expect, and all the logistics of this amazing event, Click HERE:  Sojourn FAQ 23
We are still working on all the fun details that will be this year's Sojourn, but you can take a look at the working itinerary here:  2023 Basic Sojourn Itinerary