25th Anniversary 2023

The 25th annual Schuylkill River Sojourn started a little differently this year-with put-in at Bubeck Park in Schuylkill Haven due to a bridge collapse just between there and the usual starting point at Schuylkill Haven island Park.  Over 100 paddlers lined up along the fence of the community garden, first to drop their boats to Take it Outdoors staff below, and then to scale the rocks to join their boats to start the Sojourn.  A small hiccup at the start, but still the Sojourn began as it does-with excitement, high spirits, and lots of people looking to connect to the river, to other paddlers and to that part of themselves that they can't find in their offices, their schools, their homes.  The Sojourn is a distinctive experience, combining fun with the challenges the river provides.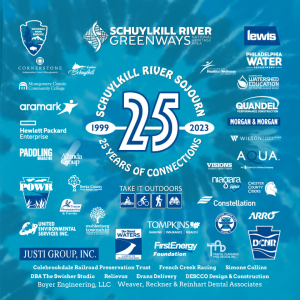 Thank you to our sponsors!
As the largest fundraiser on the Schuylkill River Greenways calendar, the Sojourn wouldn't be possible without the support of many corporate sponsors.  Year after year, companies all along the watershed contribute to making the Sojourn a successful, safe, and fun event for all, from the 42 full week paddlers to a few notable "half-day" participants that joined later in the week.
Join us in 2024!
We are already making plans for the 2024 Sojourn and hope you are, too. We will announce dates as soon as we have them so you can get ready to join us on the river.
If you're feeling nostalgic for the Sojourn, or you'd just like to get a glimpse at what this journey is all about-check out this amazing video by Kara Foran, who worked with us for this anniversary Sojourn.  She captured the spirit of the trip in all her photos and especially in this video.  To order Kara's photos, CLICK HERE