Registrations Will Open in April
The Annual Schuylkill River Sojourn will return in 2019. The 7-day, 112-mile guided paddle will begin on Saturday, June 1, 2019 from Schuylkill Haven and last until Friday, June 7, 2019 where it will end at Boathouse Row in Philadelphia.  The event is organized annually by Schuylkill River Greenways. Participants can register for one day or the entire week. Full-Trip registrations will open the first week of April with registrations for all other participants following the week after. Stay tuned for more details as they become available.
The 20th Annual Schuylkill River Sojourn Took Place From June 2 – 8, 2018
Over 200 paddlers participated in the 20th Annual Schuylkill River Sojourn, with 70 making the entire 112-mile journey from Schuylkill Haven to Philadelphia. Along the way they celebrated the sojourn's 20th anniversary with great food, great paddling, lots of laughter and music and educational programming at every stop.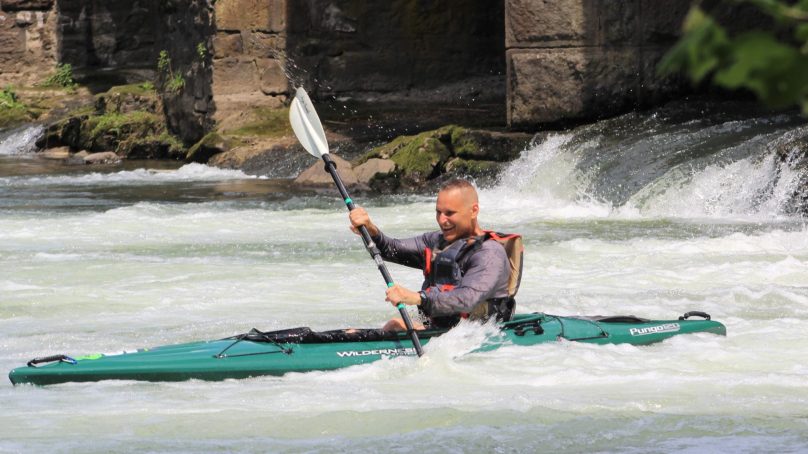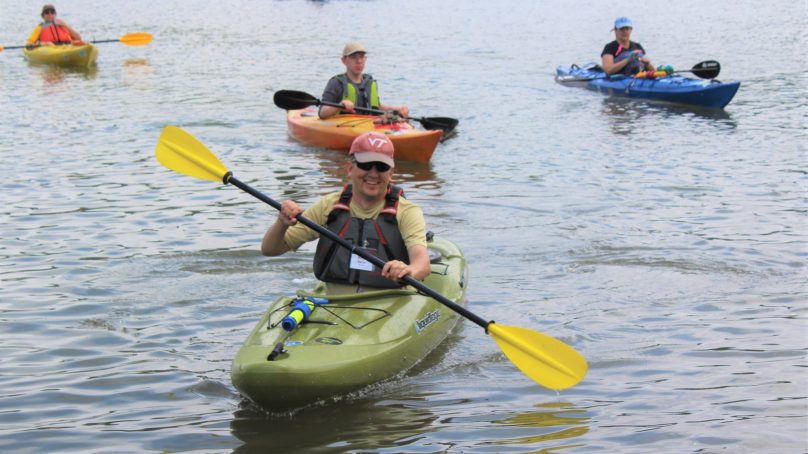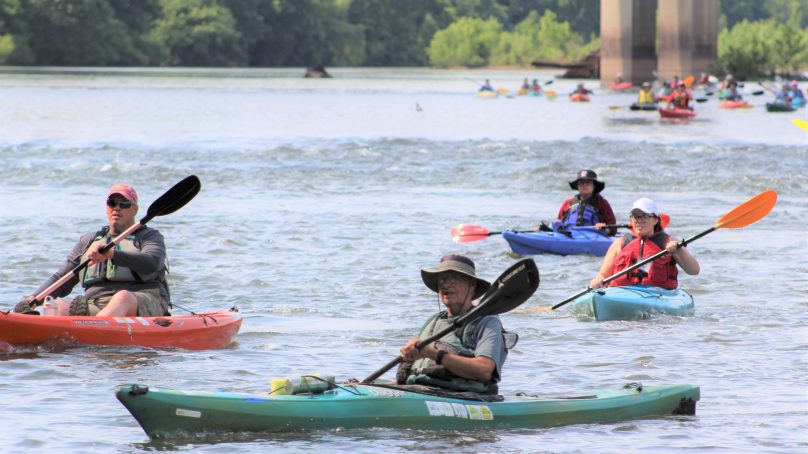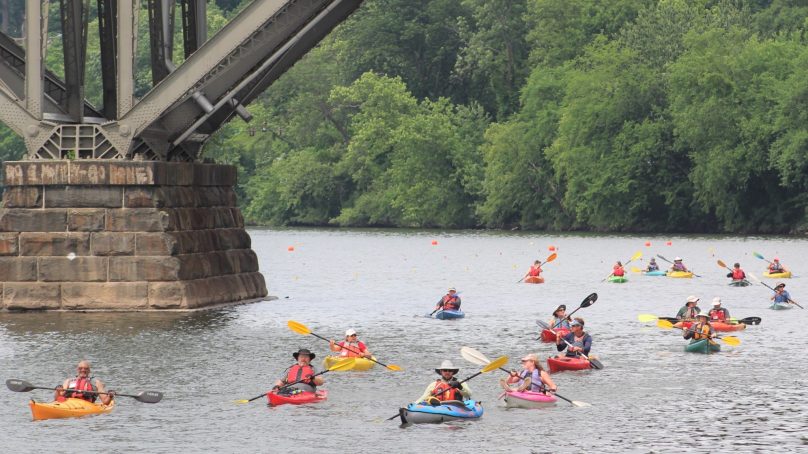 Click for More Photos
If you didn't follow Sojourn Steward Garrett Hoover's social media posts, your sojourn experience is not complete! Check out the Schuylkill Action Network Instagram and Twitter pages for recaps and photos. Garrett identified and documented species found along the river. Visit iNaturalist to view his observations and even add some of your own.
Francesca A. Calarco, National Heritage Area Communications Coordinator at the National Park Service wrote about the sojourn and this year's mentorship program with Reading Area Community College students on the NHA Blog.
Read this Reading Eagle article about the sojourn: Lost a flip-flop, made lots of friends on Schuylkill River Sojourn
2018 Sojourn In the News:
Special Thanks to Our 2018 Sponsors
Platinum Sponsor: J.P. Mascaro & Sons
Gold Paddler Sponsor: Reading Blue Mountain and Northern Railroad Company
Silver Paddler Sponsor: The Lewis Group * Borough of West Conshohocken
Bronze Paddler Sponsor: PA American Water * The Bad Adventure Company * Canoe Susquehanna * Philadelphia Water Department * Trace Pheasantry, Inc. * O'Donnell, Weiss & Mattei, P.C. *Tompkins Vist Bank
Kayaker Sponsors: Schuylkill County Visitors Bureau * Pottstown Area Health & Wellness Foundation * Colebrookdake Railroad Preservation Trust * Warrick Jewelers * Schuylkill County's VISION * DVRPC
Patrons: Liberty Environmental, Inc. * Rodger Krause CPA Incorporated * Eye Consultants of Pennsylvania, PC * Montgomery County Community College * Traffic Planning & Design, Inc. * Russel Plywood, Inc. * The Swisher Studio * Duane Morris LLP * West Motor Freight of PA * Wrigley's Business Products & Services
Donors: Weaver, Reckner & Reinhart Associate * Toll Brothers * Delaware River Basin Commission * A.D. Moyer * Evans Network of Companies
Friends: Pottstown Parks & Recreation * Bause Catered Events
The Sojourn is also made possible through funding from the PA Organization for Watersheds and Rivers (POWR) and the National Park Service.
The Schuylkill River Sojourn is financed in part by a grant from the Community Conservation Partnerships Program, the Environmental Stewardship Fund, under the administration of the PA Dept. of Conservation and Natural Resources, Bureau of Recreation and Conservation.
About the Sojourn
The Schuylkill River Sojourn is an annual 112-mile guided canoe/kayak trip on the Schuylkill River that begins in rural Schuylkill Haven and ends seven days later in Philadelphia's Boathouse Row. Participants paddle 14-18 miles per day and can register for the entire trip or as little as one day. Sometimes it is wet and wild. At other times it is peaceful and inspiring. There are a few rapids, calm water, plenty of laughs, songs at the campsites, and celebrations in the river towns. There is a little bit of everything for paddlers throughout the week-long sojourn that begins the first weekend of June. And though the same route is paddled every year, a different river greets us every June.
Registration Information
In 2016 the Sojourn was honored with a national Public Outreach Project Award from the American Society for Environmental History. Since its inception in 1999, the sojourn has introduced about 4,000 people from 25 states and four countries to paddling the river.
Sponsorship Opportunities
Fees
Full Trip $655 per adult; $490 per child ages 8-15. Not recommended for children under 8.
Individual Days $100 per adult for Sat-Thurs. (Friday is $90, since no dinner is included); $75 per child ages 8-15 for Sat-Thurs. ($65 for Friday).
Members receive a 10% discount. All registrations received after May 19 will be charged a $10 late fee. No registrations accepted after May 26.
Kayak Rental Info
If you wish to rent a kayak, please visit the Take it Outdoors rental information and kayak reservation form.