"By 2050 there will be more plastic in the ocean than fish"
- PennEnvironment
Take the Pledge Against Plastic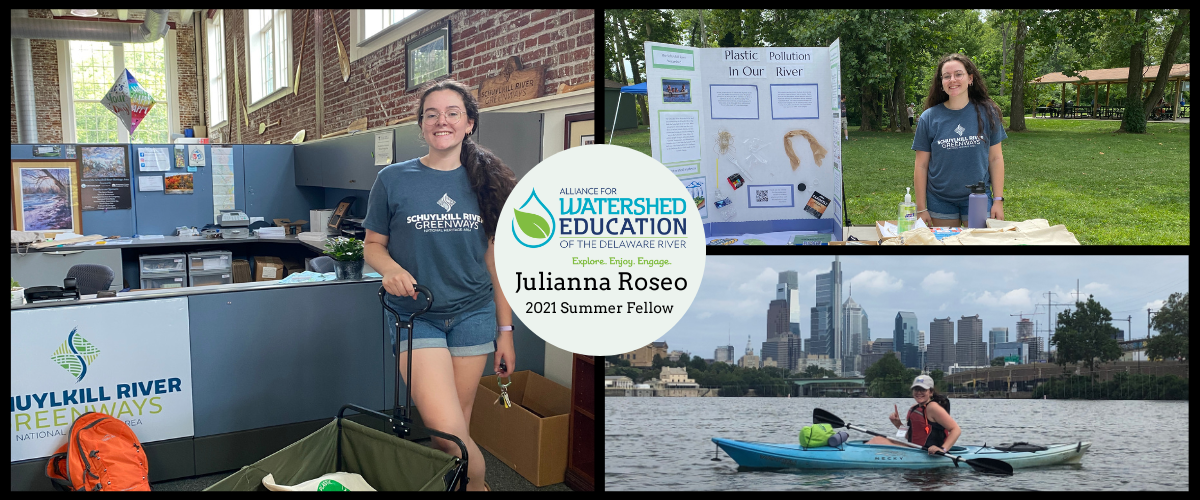 Pictured here:  2021 Summer Fellow, Julianna Roseo, Environmental Studies Major at Temple University.  In addition to this informational page, Julianna created an individual and business pledge, coordinated a Community Day event, and worked to educate people about the impact of microplastics in the Schuylkill through her participation at SRG events.
The Schuylkill River Watershed
The Schuylkill River Watershed is the land area surrounding the Schuylkill River that feeds the Schuylkill its water. When precipitation falls in our area, the water flows over land, streets, forests, and into streams and creeks, eventually making its way to the Schuylkill River. Almost 2 million people living in Schuylkill, Berks, Chester, Montgomery, and Philadelphia counties draw water from the Schuylkill for daily use.
Pollution in the Schuylkill River
Plastic pollution is a threat to our waterways. It harms wildlife and can even spread disease. The plastic in the Sch
uylkill River contaminates the water for drinking or recreational purposes. According to PennEnvironment, in a single year, the Philadelphia Water Department removes 44 tons of trash from a 32 mile stretch of the Schuylkill and Delaware Rivers, 56% of which was plastic waste. PennEnvironment has also found that in Pennsylvania the most visible litter is plastic.
Microplastics
Recently we have learned some alarming information about the further impact of plastic pollution: Microplastics. Th
ey are in our clothes, our food packaging and every piece of plastic we use. Microplastics are pieces of plastic smaller than 5mm and they are the product of larger pieces of plastic breaking down into smaller pieces.
These pose a threat to us because organisms that live in water systems ingest these tiny pieces of plastic, and when we eat fish, we ingest plastic. This presents us with unprecedented issues, since we have no idea what the long-term effect of plastic ingestion is.
The PennEnvironment Research & Policy Center sampled over 50 of Pennsylvania's most iconic rivers, l
akes, and stre
ams. The center found microplastics in 100% of the samples. These findings were published in a report called: Microplastics in Pennsylvania: a Survey of Waterways
How can you protect the Schuylkill River from plastic pollution? 
One of the main ways we can reduce plastic pollution, is to use less single-use plastic. Reducing our use of single use plastic, would reduce the waste we produce and would reduce the pollution that ends up in the Schuylkill River. We can also help to reduce the amount of litter in the river by recycling and picking up litter.
Share your efforts on social media and use #PlasticFreeSchuylkill.
Take the Pledge Against Plastic!
Ditch Single Use Plastics
There are many reusable substitutes for single-use plastics
Refillable water bottles: Instead of throwing out multiple plastic water bottles, fill up a reusable water bottle. 
Reusable stasher snack bags: Reusable snack/sandwich bags are a great alternative to throwing out multiple single-use bags for  lunch. The bags are easy to wash and store a lot of food.
Reusable "paper" towels: Instead of purchasing a new roll of paper towels every few weeks, invest in a roll of reusable washable paper towels that still take care of messes.
Reusable cotton rounds: Instead of using a cotton round to wash your face or remove makeup, try a reusable washable option that is still soft for your skin.
Reusable grocery bags: Instead of using disposable plastic bags every time you shop, reuse them, or purchase reusable bags and leave them in your car or purse.
Recycle
Not every item is recyclable here are some general do's and don'ts for recycling: 
Recycling Do's
Milk cartons, juice boxes
Ice cream cartons, egg cartons
Tin and aluminum cans, jars and bottles
Newspaper, magazines, all books, mail, flyers
 Food boxes, soda and beer cartons 
Recycling Don'ts
Aluminum foil, pots & pans, paper clips
Light bulbs, window glass
Tissues, paper towels, napkins, wax-coated cups or containers, food-soiled paper, file folders
Plastic bags, PVC pipe, packing inserts or "peanuts", medical plastics, including IV tubing, sharps, and syringes. Please refer to proper disposal guidelines from your medical service providers
Styrofoam, chemicals, rubber, wood, and ceramic or porcelain plates or cups containers
It is important to check with your local recycling center for a more specific list of items they do and don't accept.
Pick Up Trash and Record Your Efforts
Use The Clean Sweep App to record your clean up efforts 
CleanSweep makes it easy to make a difference locally. Use CleanSweep to find and record your cleanup efforts or adopt and report litter hotspots. See the progress and data being collected by people like you. Measuring results can help secure ongoing funding and cleanup efforts. The app is available for download on the App Store and Google Play. Find out more at schuylkillcleansweep.org.
Help us Monitor Litter Along the River
Help us document the health of the Schuylkill River
No training required! Find a spot on the Schuylkill River and visually assess any debris or dumping along a 100-foot stretch of its riverbanks. It only takes 5 minutes. Use your mobile device to simply record the trash accumulation or dumping points via a user-friendly form accessible from a cell phone.
Conduct 5-min litter assessments!
Go to a spot on the Schuylkill River.
On your phone, open: bit.ly/litterform
Select your location on the map
Upload a photo
Rate a 100-foot section and submit!
Businesses Can Make a Pledge Against Plastic 
Businesses can make a pledge to better protect the Schuylkill River Watershed and surrounding environment by adopting a new habit. Every business who completes the pledge will receive a certificate to display, as well as have their business name and logo recognized on this website.
Business Pledge Against Plastic