SOJOURN & REGISTRATION POSTPONED DUE TO COVID-19
Given the current state of uncertainty and the likelihood of continued restrictions on group outings, Schuylkill River Greenways has made the difficult decision to postpone the 22nd Annual Schuylkill River Sojourn. The 2020 Sojourn will not be held from June 6 to June 12, as originally planned.
We remain committed to hosting the Sojourn this summer, in some shape or form.  It may look very different this year, depending on the parameters under which we will have to operate due to COVID-19 restrictions and summer water levels.  We have tentatively booked a shortened, five-day period from Saturday, August 15, to Wednesday, August 19, so please mark your calendars.
We will update you in May when we all have a clearer picture of what the summer may hold.  Should the Sojourn be held in mid-August, we will open registration in early June and we will be sure to get the registration dates announced as soon as possible.
Thank you for your continued support and engagement, and stay tuned!  Be safe, healthy and keep those hands washed!
Schuylkill River Greenways
The 22nd Annual Schuylkill River Sojourn is tentatively scheduled to take place from August 15 – 19, 2020 instead of from June 6 – 12, 2020 as originally planned.  Under normal circumstances, the 7-day, 112-mile guided paddle begins from Schuylkill Haven and ends seven days later in Philadelphia. Participants can register for one day or the entire week. Organized by the Schuylkill River Greenways National Heritage Area, the sojourn has evolved into a popular paddling event that has allowed more than 4,000 people from 25 states and four foreign countries to paddle the revolutionary river.
Sojourn Registration Includes:
Three meals a day and water/Gatorade at water stops ~ Expert guides ~ Camping arrangements ~ Shuttle back to cars ~ Gear transported for multi-day participants ~ Educational programs and/or musical entertainment at all lunch and evening stops.
Click here for the 2020 General Sojourn Itinerary 
Click here for general information and policies
Click here for what to bring and wear
Click here for Sojourn Frequently Asked Questions
The 21st Annual Schuylkill River Sojourn Took Place From June 1 – 7, 2019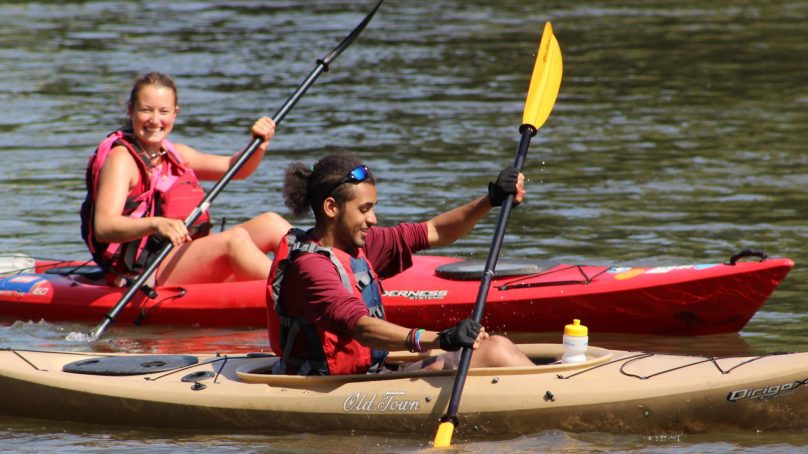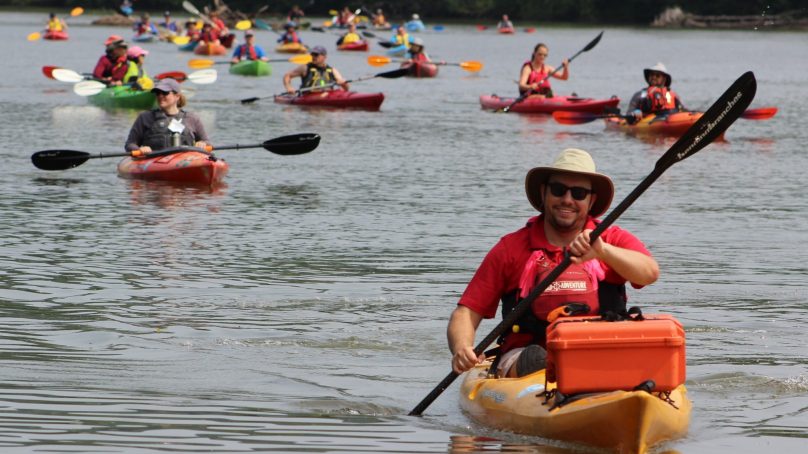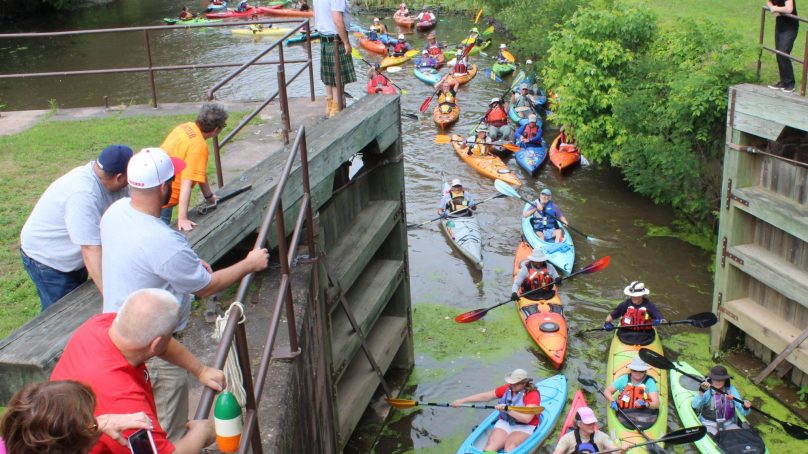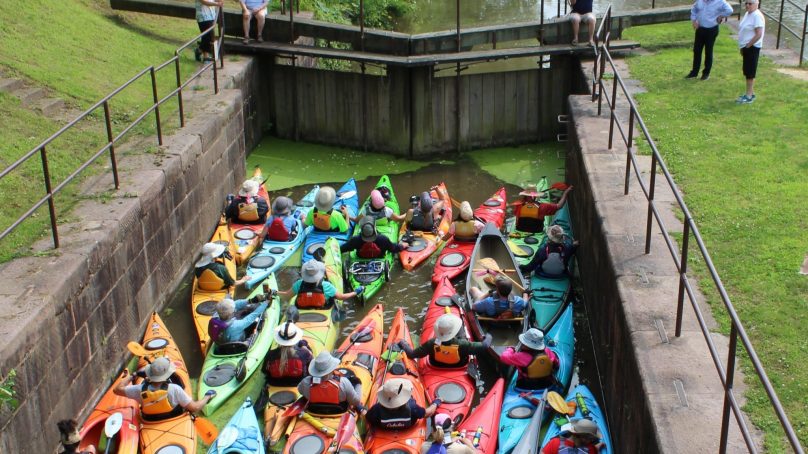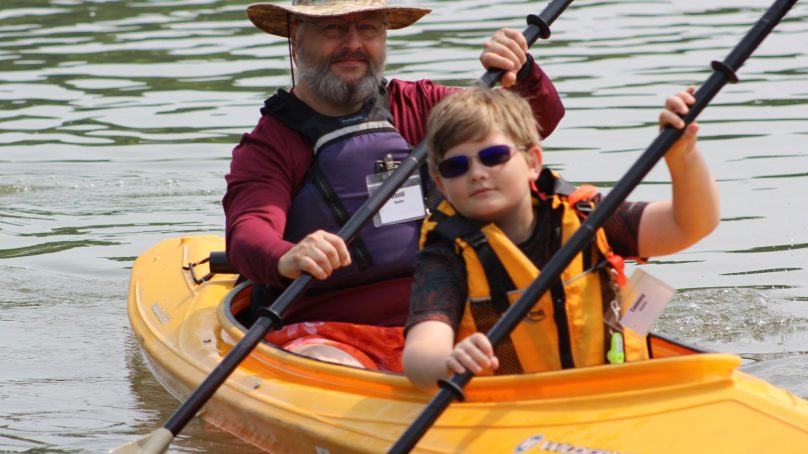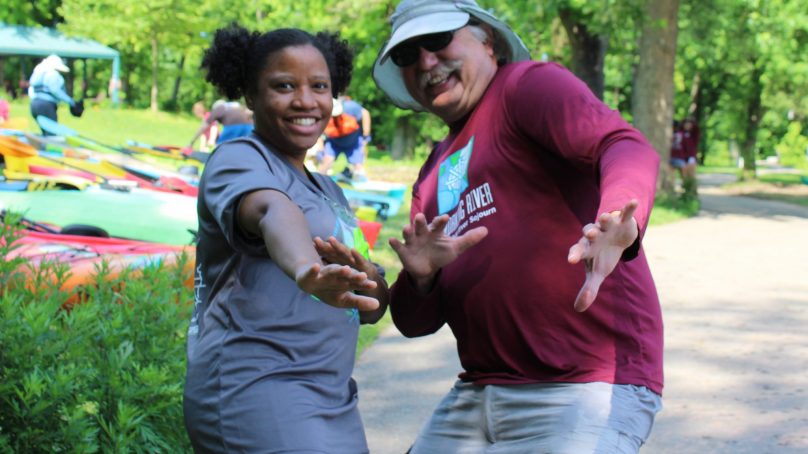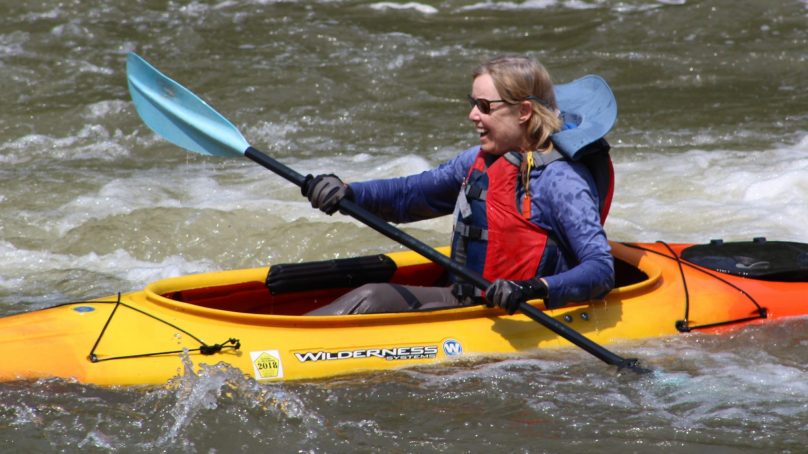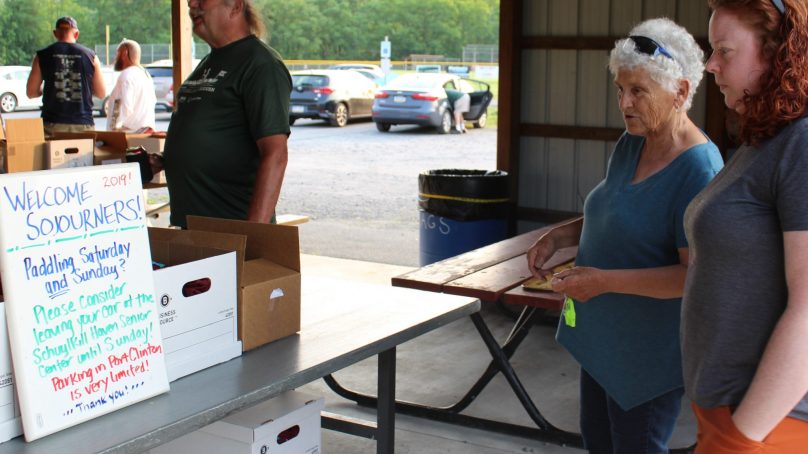 Click for More Photos
More than 200 paddlers participated in the 21st Annual Schuylkill River Sojourn, with about 70 making the entire 112-mile journey from Schuylkill Haven to Philadelphia. The sojourn is summer camp, a regional history exploration, and bonding experience all rolled into one. People of all experience levels participated in this year's event including several beginners who paddled the river for the first time.
In addition to paddling on the water, sojourners learned more about the national heritage area through educational programming provided at all lunch and evening stops. This year's sojourn theme was "Our Working River." The river played an important role in the Industrial Revolution. The abundant natural resources and the fast moving waters of the river and its tributaries fueled the nation's economic engine for centuries.
For the fourth year, Schuylkill River Greenways teamed up with the Schuylkill Action Network to hire a Sojourn Steward who researched historic, industrial places along the Schuylkill River and shared how those places have changed and impacted the river. Check out the Schuylkill Action Network Instagram page for recaps and photos from this year's steward Julia Aguilar.
Thank you to the Spring-Ford Area School District Ram Country TV Station for creating this video about the 2019 Sojourrn stop in Royersford.
Special Thanks to Our 2019 Sojourn Sponsors
Gold Paddler Sponsor: Reading Blue Mountain & Northern Railroad Company
Silver Paddler Sponsor: Tompkins VIST Bank * The Lewis Group
Bronze Paddler Sponsor: PA American Water * The Bad Adventure Company * Take It Outdoors Adventures * Trace Pheasantry, Inc.
Kayaker Sponsors: Schuylkill County Visitors Bureau * Pottstown Area Health & Wellness Foundation * O'Donnell, Weiss & Mattei, P.C. * Tooth of the Lion * Wrigley's Business Products & Services LLC * Aqua PA * Delaware Valley Regional Planning Commission * Philadelphia Water Department
Patrons: Warrick Jewelers * Traffic Planning & Design, Inc * Main Line Sail and Power Squadron * Montgomery County Community College * Rodger Krause CPA Incorporated
Donors: Eye Consultants of Pennsylvania, PC * Weaver, Reckner & Reinhart Association * Toll Brothers * Boyer Engineering LLC * Spotts Insurance Group Inc. * DESCCO Design & Construction * Colebrookdale Railroad Preservation Trust * DBA The Swisher Studio * Chester County Ciders
Friends: Pottstown Parks & Recreation * Bause Catered Events
The Sojourn is also made possible through funding from the PA Organization for Watersheds and Rivers (POWR) and the National Park Service.
The Schuylkill River Sojourn is financed in part by a grant from the Community Conservation Partnerships Program, the Environmental Stewardship Fund, under the administration of the PA Dept. of Conservation and Natural Resources, Bureau of Recreation and Conservation.
About the Sojourn
The Schuylkill River Sojourn is an annual 112-mile guided canoe/kayak trip on the Schuylkill River that begins in rural Schuylkill Haven and ends seven days later in Philadelphia's Boathouse Row. Participants paddle 14-18 miles per day and can register for the entire trip or as little as one day.
Sometimes it is wet and wild. At other times it is peaceful and inspiring. There are a few rapids, calm water, plenty of laughs, songs at the campsites, and celebrations in the river towns. There is a little bit of everything for paddlers throughout the week-long sojourn that begins the first weekend of June. And though the same route is paddled every year, a different river greets us every June.
FREE Sojourn Opportunities
There are opportunities for people to participate in the Schuylkill River Sojourn at no cost to them. Click on the tabs below to learn about the Bill Trace Scholarship and the Sojourn Steward position, both ways to paddle in the sojourn for free.
Bill Trace Scholarship for First-Time Sojourners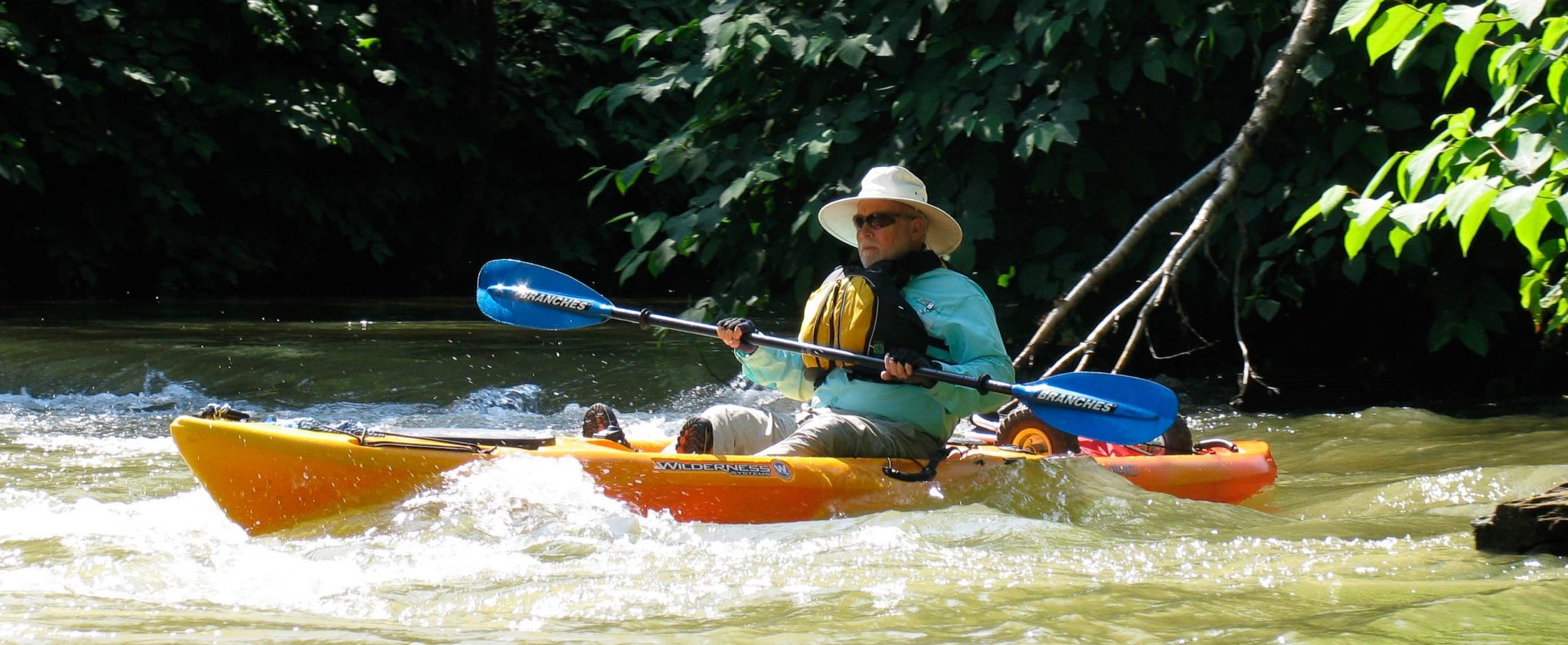 In memory of Bill Trace, a longtime sojourner and devoted member of Schuylkill River Greenways, a fund has been established through the generosity of his family and friends enabling us to offer a free one-day trip on the annual Schuylkill River Sojourn to three people who have never before been on the sojourn. This scholarship is only open to those 18 years and older. To apply, you will need to fill out the one page application which will be available when registration opens. The application deadline is TBD. 
Schuylkill Action Network Sojourn Steward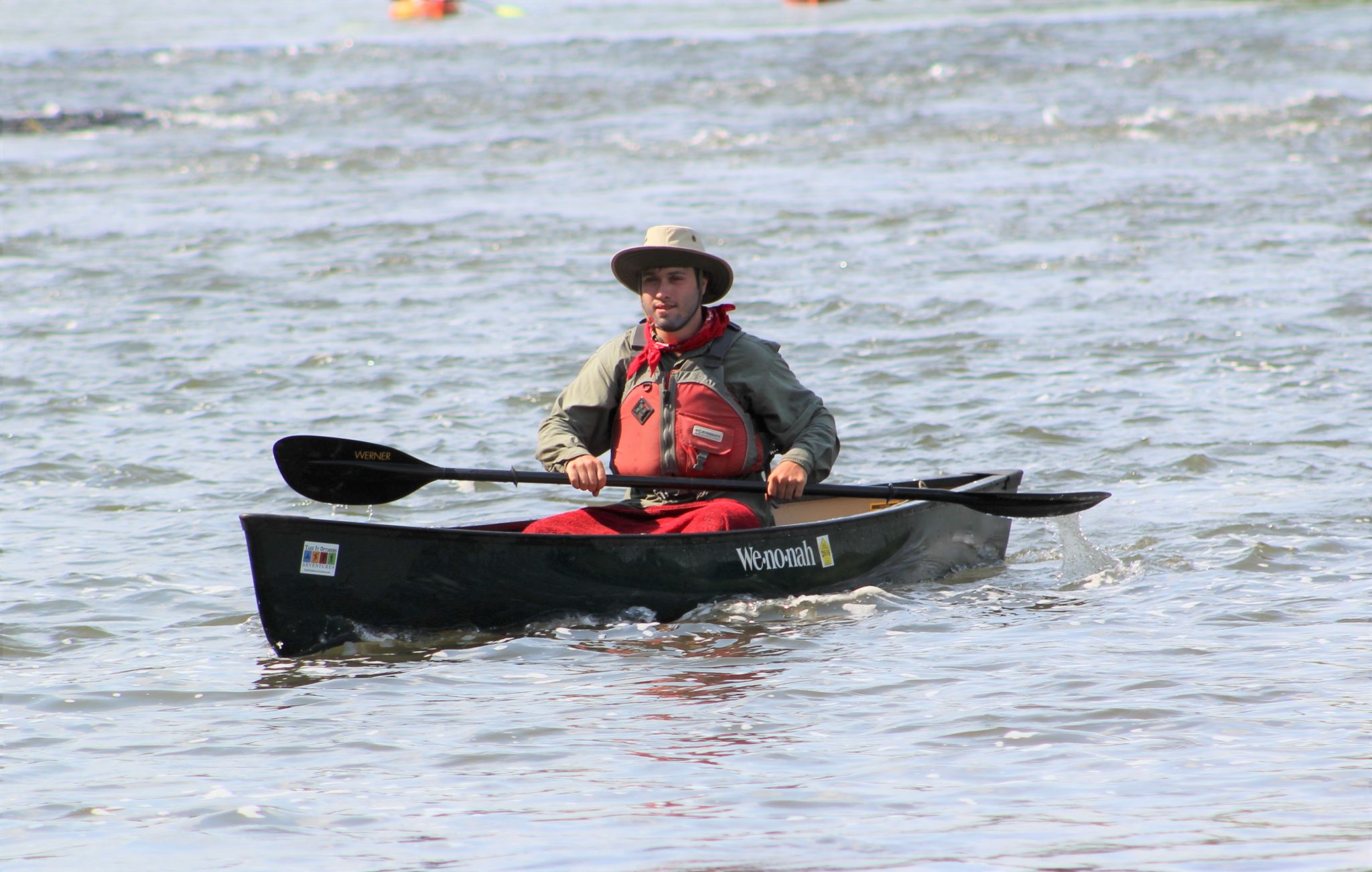 Overview
The Schuylkill Action Network (SAN) will provide a full-week scholarship ($700 value) for an enthusiastic individual with paddling, photography, and social media experience to photo-document and help identify plants and wildlife along the river during the week-long sojourn excursion. The steward will be asked to present his or her findings on the final evening. 
Sojourn Steward Expectations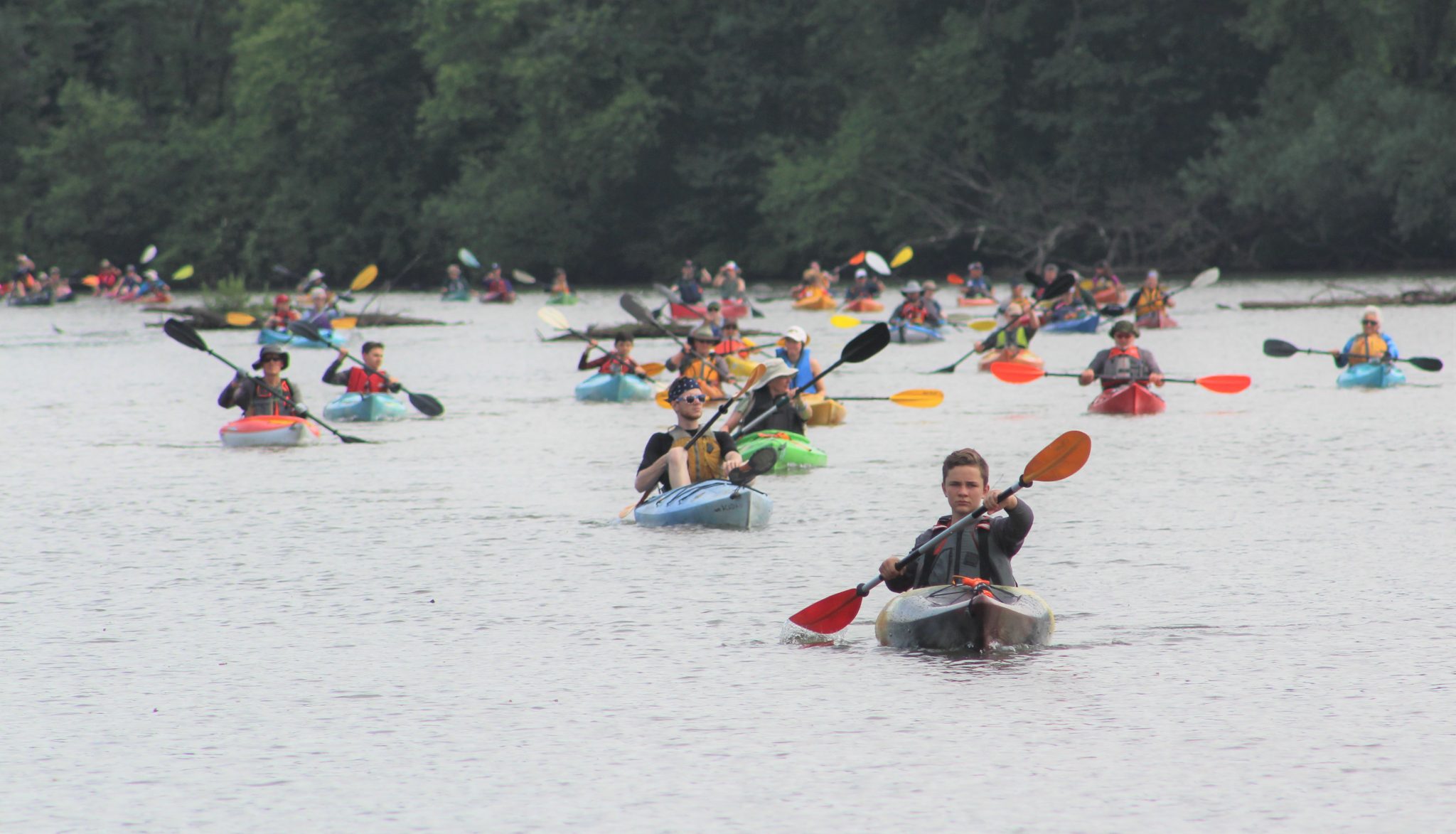 Participate in the entire Schuylkill River Sojourn (Sat, June 6 – Fri, June 12, 2020).
Research historic, industrial places along the Schuylkill River. Be prepared to share how those places have changed and what impacts they had/have on the river.
Take photos of the historic places now. You can use either your own camera or the waterproof camera provided.
Post social media updates to Facebook, Twitter, and Instagram during lunch and evening breaks. (E.g., show "then and now" side by side photos; click here for an example)
Interact with sojourn participants - teach them about industry along the Schuylkill River over the years, how it's changed and what impacts it has had on the environment.
Present at the end of Sojourn about your experience.
All materials and supplies will be provided to the Sojourn Steward by the Schuylkill Action Network (SAN).
Application Deadline is TBD
The application will be available when registration opens
For questions, please contact Virginia Vassalotti at vvassalotti@delawareestuary.org or 302-655-4990 x121.
In 2016 the Sojourn was honored with a national Public Outreach Project Award from the American Society for Environmental History. Since its inception in 1999, the sojourn has introduced about 4,000 people from 25 states and four countries to paddling the river.
Sponsorship Opportunities
Fees
Full Trip $655 per adult; $490 per child ages 8-15. Not recommended for children under 8.
Individual Days $100 per adult for Sat-Thurs. (Friday is $90, since no dinner is included); $75 per child ages 8-15 for Sat-Thurs. ($65 for Friday).
Members receive a 10% discount. All registrations received after May 17 will be charged a $10 late fee. No registrations accepted after May 24.
Kayak Rental Info
If you wish to rent a kayak, please visit the Take it Outdoors rental information and kayak reservation form.