Clean Up the Schuylkill with New Phone App
#SchuylkillCleanSweep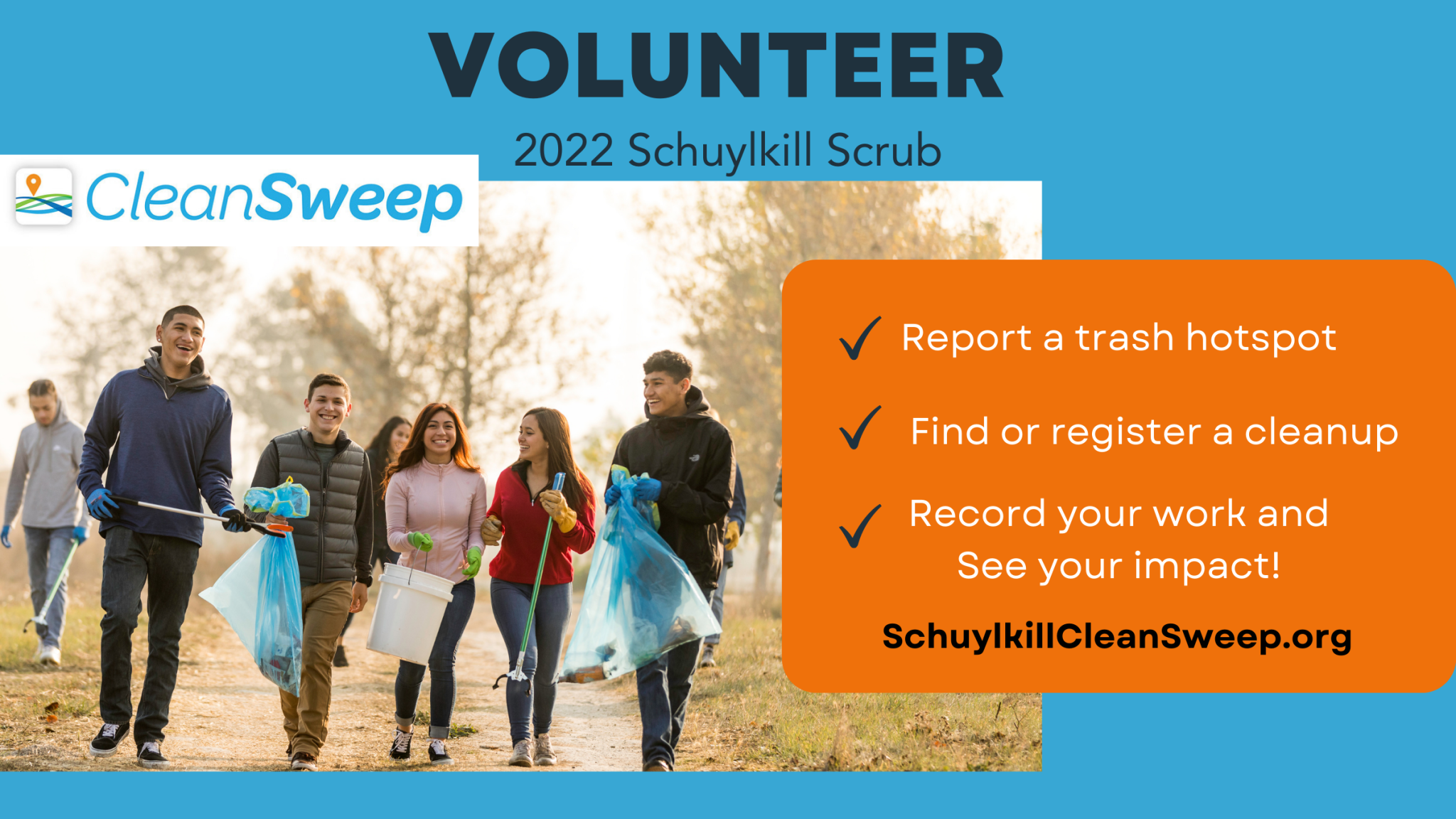 The Schuylkill Action Network (SAN) is excited to announce the re-launch of CleanSweep, a smartphone app and web-based dashboard designed to engage volunteers in cleaning up the Schuylkill River Watershed. These new tools make it easy for trash cleanup organizers to register and promote cleanup events, recruit volunteers, and record their results.
CleanSweep is the partner app for the 2022 Schuylkill Scrub, which runs from March 1 through May 31. This annual campaign encourages cleanup efforts within the Schuylkill River region along roads, streams, and parks.
SAN and the Schuylkill River Greenways National Heritage Area invites the public to download the CleanSweep app this spring and use it along the Schuylkill River, on the Schuylkill River Trail and throughout the region. To help people get started, a short video demonstration is available at bit.ly/CleanSweepVideo.
People who notice trash buildup in a particular area can use the app to report a litter "hot spot" using GPS capabilities. Volunteers can use CleanSweep to host their own cleanup activity or find a cleanup event to join by viewing opportunities displayed on a map in the app. Events are also searchable by name, organizer, or date.
Organizers will be able to use the app to report the results of their cleanup from the field. Reporting is streamlined so that it is quick and easy to submit information. You can also upload and share photos from the cleanup to promote your work and inspire others to take action.  Help prevent litter from getting into our environment in the first place by disposing of trash properly and recycling whenever possible.
Cleanup results and photos are compiled and displayed on the CleanSweep website dashboard at SchuylkillCleanSweep.org. The site boasts an interactive map where visitors can click on events to see geo-located photos, information about the cleanups and how much litter has been removed from the watershed.
The CleanSweep app was developed by partners in the SAN, including Miller Designworks, Schuylkill River Greenways National Heritage Area, and the Partnership for the Delaware Estuary. The app was funded by the William Penn Foundation. The goal of the project is to reduce litter by increasing the number of volunteers, the success of cleanup events, and the number of adopted litter hot spots.
The Schuylkill Action Network (SAN) is a collaborative network of over 100 partner organizations working together to improve water resources in the Schuylkill River Watershed.  With "action" as SAN's middle name, SAN partners have been working since 2003 to implement best practices across the Schuylkill River Watershed.
###
The Schuylkill River Greenways NHA is a non-profit organization with the mission of connecting residents, visitors and communities to the Schuylkill River and the Schuylkill River Trail (SRT) by serving as a catalyst for civic engagement and economic development in order to foster stewardship of the watershed and its heritage.