THIS EVENT HAS BEEN CANCELED
This event has been canceled. If you purchased a ticket/s then you have been issued a full refund to the credit card used. Heritage & Hops is a seasonal event series and more events are planned for this winter. When dates become finalized, information will be available on this website under the events tab. Please stay tuned for future events. 
Join us for a tour of America's Oldest Brewery and a screening of "Poured in PA!" Ticket includes tour, beer, lunch and private film screening.
Yuengling Tour & Tasting: Meet us at the Yuengling Gift Shop at 10:00 a.m. for a tour of America's Oldest Brewery followed by a tasting. You'll experience nearly 200 years of American brewing history. Discover the famous hand-dug caves that were used for beer fermentation before refrigeration and Yuengling's iconic brew house with its breath-taking stained glass ceiling. Learn how Yuengling survived Prohibition at the adjacent creamery business and current gift shop & tasting room.
All ages are welcome to participate in the brewery tour. A valid ID is required to sample Yuengling products at the end of the tour. Soda is available for those under the age of 21 and those who prefer non-alcoholic beverages.
Completely closed shoes are REQUIRED to go on tour. We recommend wearing sneakers.
Majestic Theater: Following the tour and tasting at Yuengling, we will head to the Majestic Theater (209 N. Centre St. Pottsville PA 17901). It's about a five-minute walk from Yuengling to the theater. At Majestic Theater, we'll enjoy Yuengling beer with lunch, and watch Poured in PA, a documentary exploring Pennsylvania's craft beer industry. From America's oldest brewery to taprooms changing the landscape of small towns across the commonwealth, GK Visual's documentary film, Poured in PA, illustrates the importance of this ancient—but newly redeveloped—beer industry and its impact on Pennsylvania.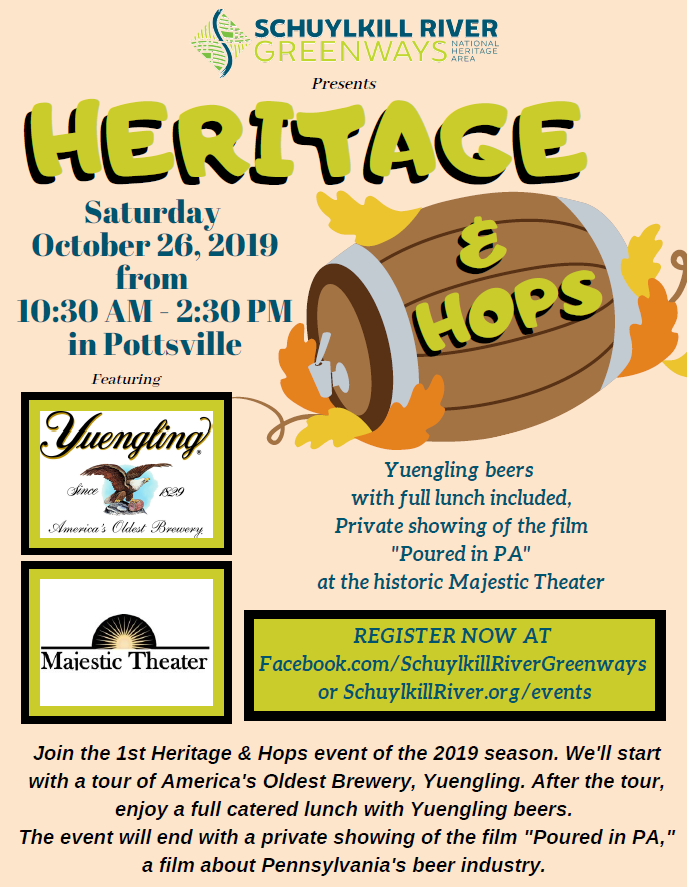 Heritage & Hops Series
This event is part of our Heritage & Hops Series which offers a craft beer experience at local breweries. Chat with the brewery's staff to learn about the venue's rich historical past or unique cultural connection to the region. Craft beer tastings are included at each event along with filling appetizers or menu options.
Each brewery is located within the Schuylkill River Heritage Area and Watershed. The region is filled with a remarkable diversity of historic, recreational and cultural attractions. Every Heritage & Hops event includes a visit to a place of interest such as museums, theaters and historical properties. Sometimes the place of interest happens to be the brewery itself.
Did you know Pennsylvania produces the most craft beer in the United States? There are more than 350 craft breweries throughout the state. Regional breweries are intrinsically tied to the health of the Schuylkill. You can't make beer without clean water and the Schuylkill River provides drinking water to almost 2 million people.
Come to one or come to them all for a HOPPIN good time within the Heritage Area.