New "Go Schuylkill Greenways" Website
Are residents can find their next adventure on the Schuylkill River and Schuylkill River Trail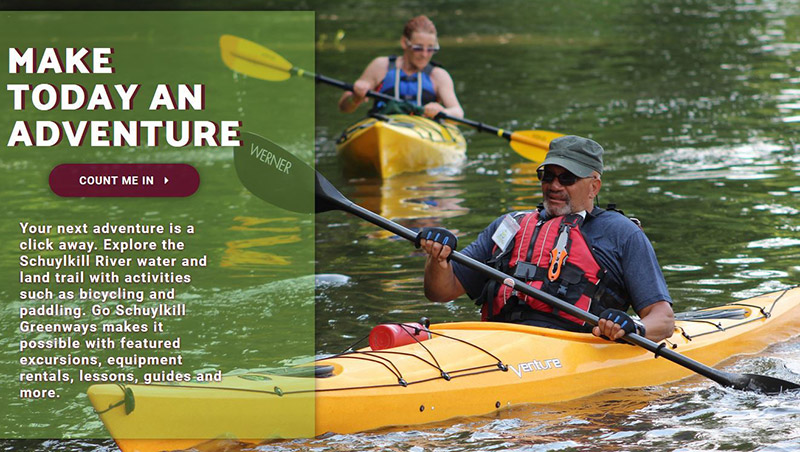 People looking for something fun to do outdoors with friends and family don't have to search very far with the new Go Schuylkill Greenways website.
The next adventure is just a click away. Whether it's borrowing a bike for an enjoyable ride on the Schuylkill River Trail, renting a kayak for a paddle on the Schuylkill River or finding time for a do-it-yourself excursion; Go Schuylkill Greenways is the place to visit to learn about all these opportunities.
"The Greater Philadelphia Region is rediscovering how beautiful and clean the Schuylkill River has become. There are so many ways for just about anyone to enjoy this incredible natural resource and the trail that runs alongside it," said Schuylkill River Greenways NHA Executive Director Elaine Paul Schaefer. "This new website will help residents and visitors to the area navigate how to get on the river or trail and take full advantage of both!"
Those that visit GoSchuylkillGreenways.com are first asked to choose their activity. For example, clicking on the "bicycling" icon or text will bring you to a full list of programming available for cyclists. Visitors will learn about the bike rentals available in the area, guided tours and even shuttle options available to transport bikes. There's also information about paddling on the river and special pedal and paddle events.
Some people may want to experience the Schuylkill River Trail but don't know exactly where to start. The website features #DIY bike excursions. The do-it-yourself explorations are complete with directions on how to get on the trail, parking details and suggested refreshment and attraction stops.
Site visitors can click the events page for a list of upcoming outdoor recreational activities. Two very exciting events are happening this week on July 26. A group of about 15 people will participate in a Pedal and Paddle from 4 to 8 p.m. at the historic Lock 60 in Mont Clare. The event includes a bike ride and kayaking trip. Then from 8 to 10:30 p.m., there will be a free Movie Night by the River at Fitzwater Station in Phoenixville. The featured film is "Wonder Woman."
The mission of Schuylkill River Greenways National Heritage Area is to connect people and communities to the Schuylkill River and Schuylkill River Trail whether it though biking, kayaking, hiking or other forms of recreation. The Schuylkill River Heritage Area encompasses five counties: Schuylkill, Berks, Chester, Montgomery and Philadelphia. The trail and river naturally connect these communities.
Schuylkill River Greenways has partnered with local outfitters Take It Outdoors Adventures based in the Pottstown area and Riverbend Cycles based in Whitemarsh Township to create Go Schuylkill Greenways. Take It Outdoors Adventures organizes group kayaking trips and more. Riverbend Cycles is a full-service bike shop and offers weekly community rides. Go Schuylkill Greenways features programming information from these two outfitters as well as recreational activities offered through Schuylkill River Greenways. The vision is that eventually there will be a system of hubs along the entire Schuylkill River where people can easily rent a bike or kayak, stop at a local eatery for a meal, and explore attractions in nearby towns.