Join Schuylkill River Greenways (SRG) for a Volunteer Day along the Thun Section of the Schuylkill River Trail in Reading on March 27 (Rain Date: April 10). The area, sometimes referred to as the Craig Link Section, is in need of clearing, cleaning and other maintenance tasks. This event is part of the Reading Gateway Initiative: Reviving the Reading Gateway Section of the SRT. Click Here to Learn More
Volunteers will help in this effort by removing trash, clearing the area of vegetation and overgrowth, installing and cleaning signage, and removing old fencing . Please register so we have a number count for volunteers. Please bring your own mask. Masks and social distancing are required for this event.
Waivers
You and every person you sign up to participate in this event will need to sign the waiver (SRG Waiver & Release Form). This waiver can be signed electronically and MUST be completed by noon Friday, March 26th. Parents or guardians will need to complete the waiver for anyone under 18 years old. Anyone who doesn't complete the waiver will not be able to participate in the event.
Participant Release of Image
By registering for this event, you give permission for your photograph to be taken during this event and activity and for the organizers of this activity to use your photographic image for any advertising or publicity for this and other Schuylkill River Greenway Association events. Waiver must be signed as well. A parent/guardian signature is required for participants under 18 years of age at the time of event.
Where to Meet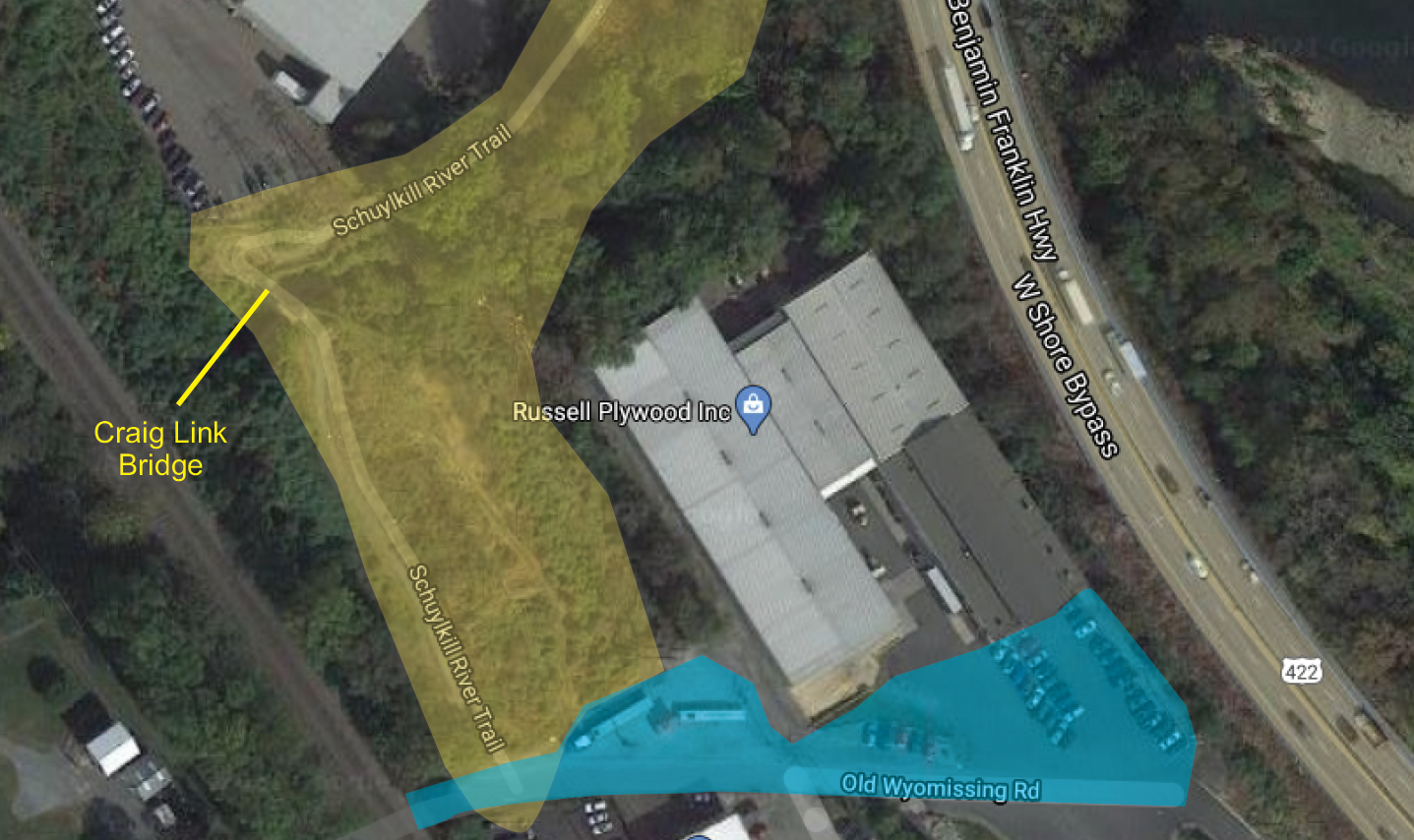 Participants will meet on the Trail near the Russell Plywood building. The address is 401 Old Wyomissing Road, Reading, PA 19611. Volunteers can park in Russell Plywood lot during the event.