We've closed the gap!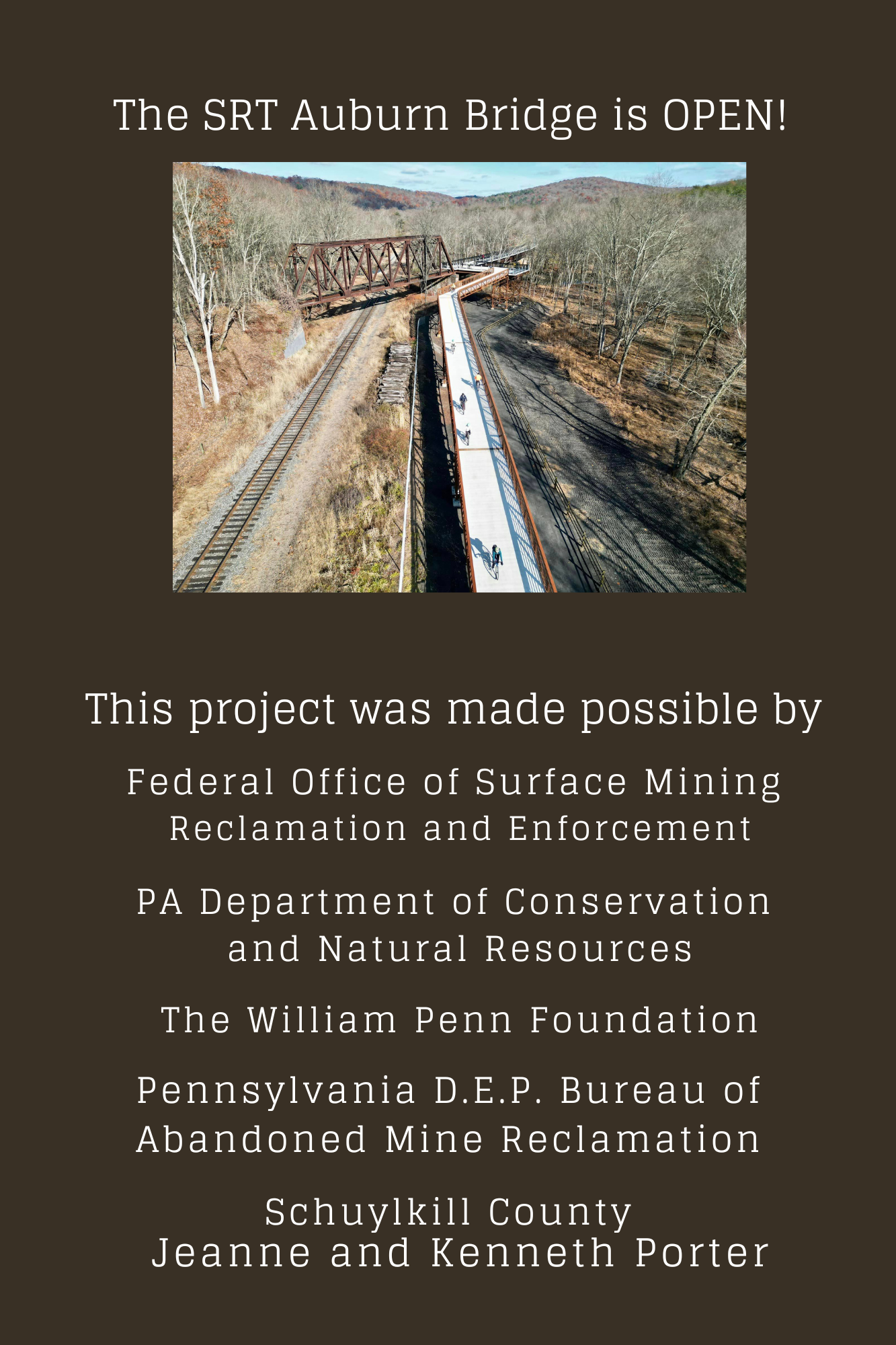 A former Pennsylvania Railroad bridge in Auburn, Schuylkill County has been rehabilitated as part of the extension of the Schuylkill River Trail. The historic plate girder bridge, which crosses the Schuylkill River, has been fitted with a new concrete trail deck and steel railings. This project closes the last remaining break of the trail in Auburn which is located near the borders of Berks and Schuylkill Counties. Eliminating the gap will create a 9.5-mile segment of the trail that will not only connect the two counties but also the towns of Auburn, Hamburg and Port Clinton. The trail, as an alternative form of transportation, will promote recreation, health, tourism and more in the region.
Schuylkill River Greenways National Heritage Area staff, partners, funders and the public gathered November 9th to welcome a large crowd and cut the ribbon on this major project.  Senator Argall, DCNR Secretary Cindy Dunn, Representative Barton, and other federal and local officials shared remarks about the importance of this bridge to the trail and to the economies of both Berks and Schuylkill Counties. Thanks to the foresight and generosity of the Porter Family, the new structure closes the "Auburn Gap" as locals have been calling the project.  
While recent construction appeared to have moved quickly, thanks to SRG's competent and creative construction partners, Schuylkill County natives have been waiting for this section for decades.  The initial stage of the project began in 2018 before facing delays due to the Covid-19 pandemic and easement issues.  The completed section of trail is a good indicator of the kind of trail that will eventually run all the way to its terminus in Frackville.  Local bike clubs, neighbors, and even cyclists from Philadelphia are making use of the trail already.
Interested in visiting?  You can start at the Auburn Trailhead for a 3 mile roundtrip to the bridge, or be a little more adventurous and start at the Kernsville Dam Recreation Area Trailhead for about a 12 mile roundtrip.  Please note, there is no parking at the bridge and the trail in this area is surrounded by private property. We are so grateful to the homeowners who've made the trail possible and we hope that you will help us thank them by staying on the trail and respecting the no parking status of the area.