Celebrate Trails Day!
Trails Day is an annual spring celebration of America's trails. The celebration encourages people all across the country to get outside and enjoy the nation's exceptional trails and trail systems.
- railstotrails.org
This year, Celebrate Trails Day (formerly Opening Day for Trails) falls on Saturday, April 24. The celebration was started by Rails-to-Trails Conservancy in 2013. The 2021 celebration will look a little different, but it will matter more than ever. It's never been more important to get outside and show your love for the Schuylkill River Trail and outdoor spaces.
SRT Voted One of Best Riverwalks in Nation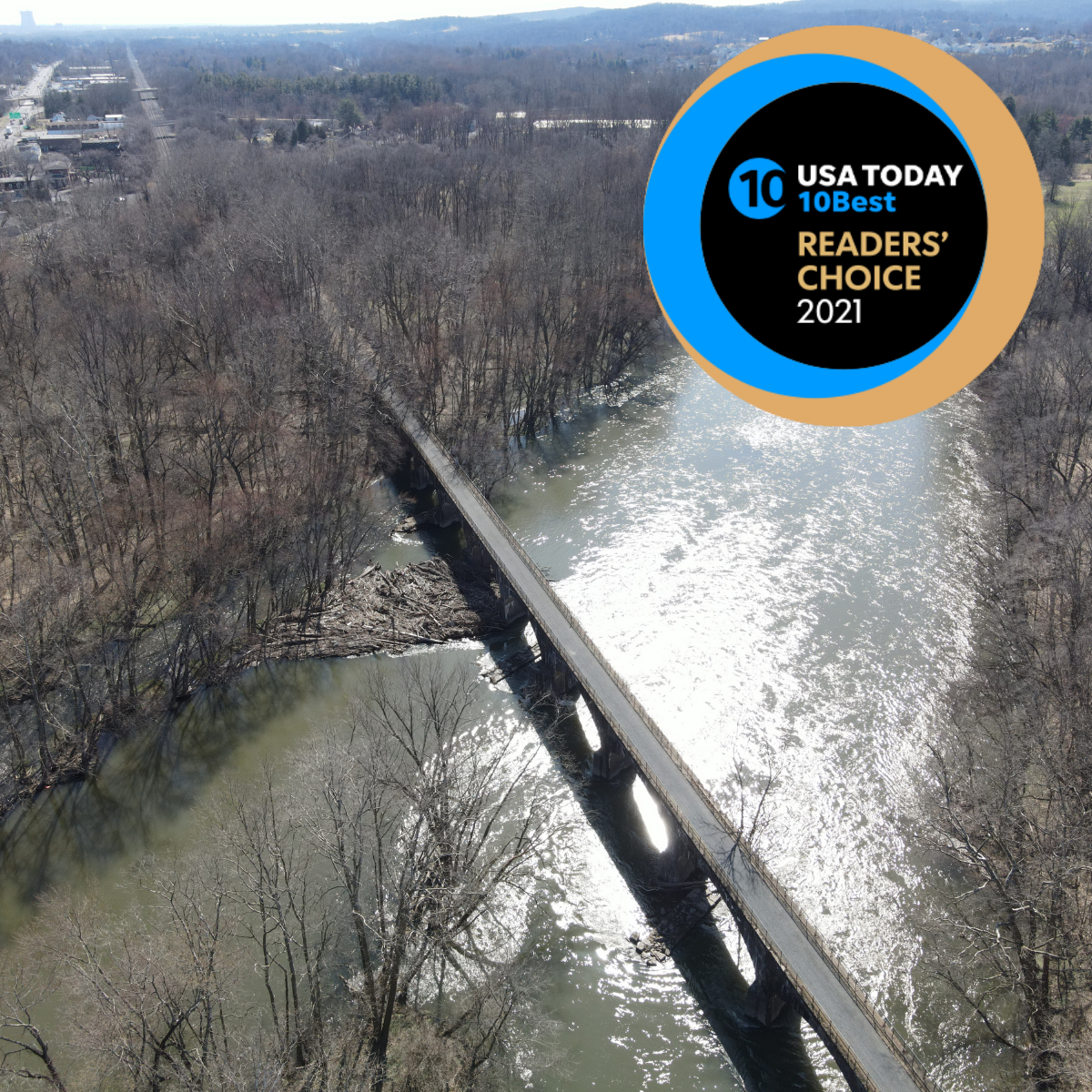 The Schuylkill River Trail is a winner in the 2021 USA TODAY 10Best Readers' Choice Contest for Best Riverwalk. The SRT came in third place. The trail was also selected as a top trail to visit in Pennsylvania on the 2021 Rails-to-Trails Conservancy blog. In 2015, the Schuylkill River Trail took first place as the Best Urban Trail in USA Today's 10 Best Readers Choice poll.
SRT Opening Trails Day Cleanup on April 25th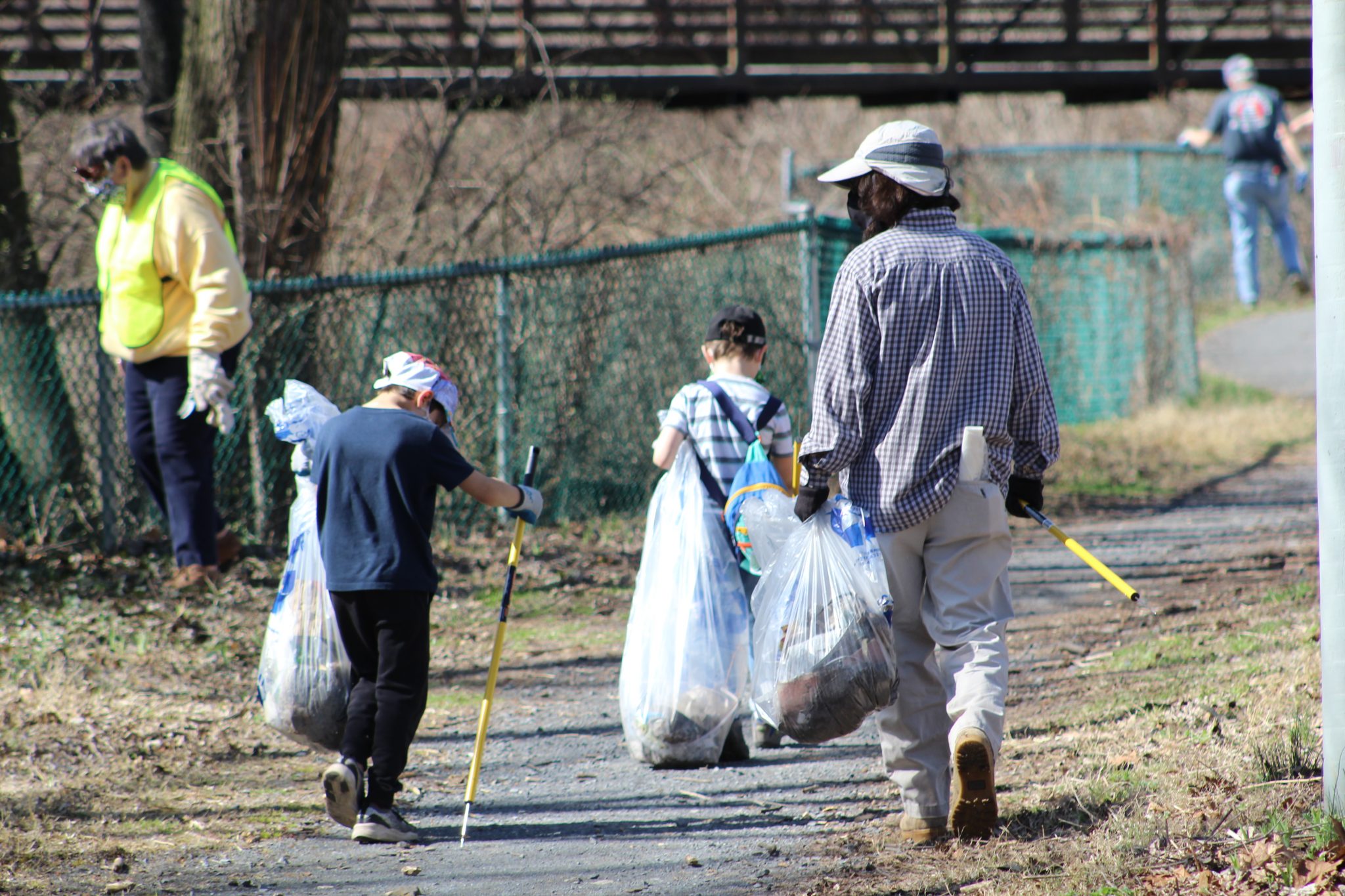 Celebrate Trails Day falls on April 24th this year, but the Schuylkill River Trail Cleanup for this event will take place the following day on April 25th. Join us for a SRT cleanup at Fork & Ale. Fork & Ale is a Schuylkill River Trail adopt-a-trail member and the cleanup will be on this specific section of the trail in Union Township, Berks County. Masks and social distancing are required during this event. Each volunteer will receive a voucher they can use at the Fork & Ale restaurant.
CLICK HERE TO REGISTER AS A VOLUNTEER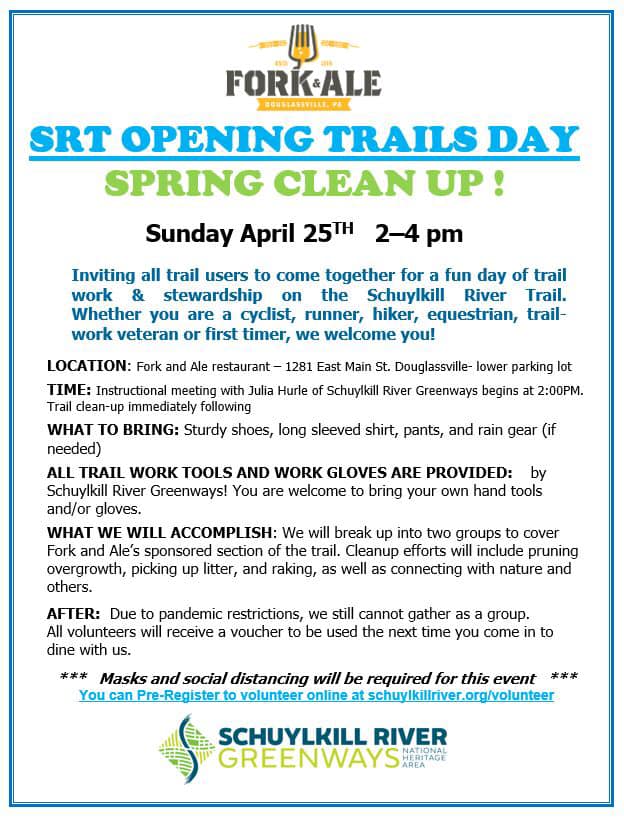 Plan a Trip on the SRT this Trails Day!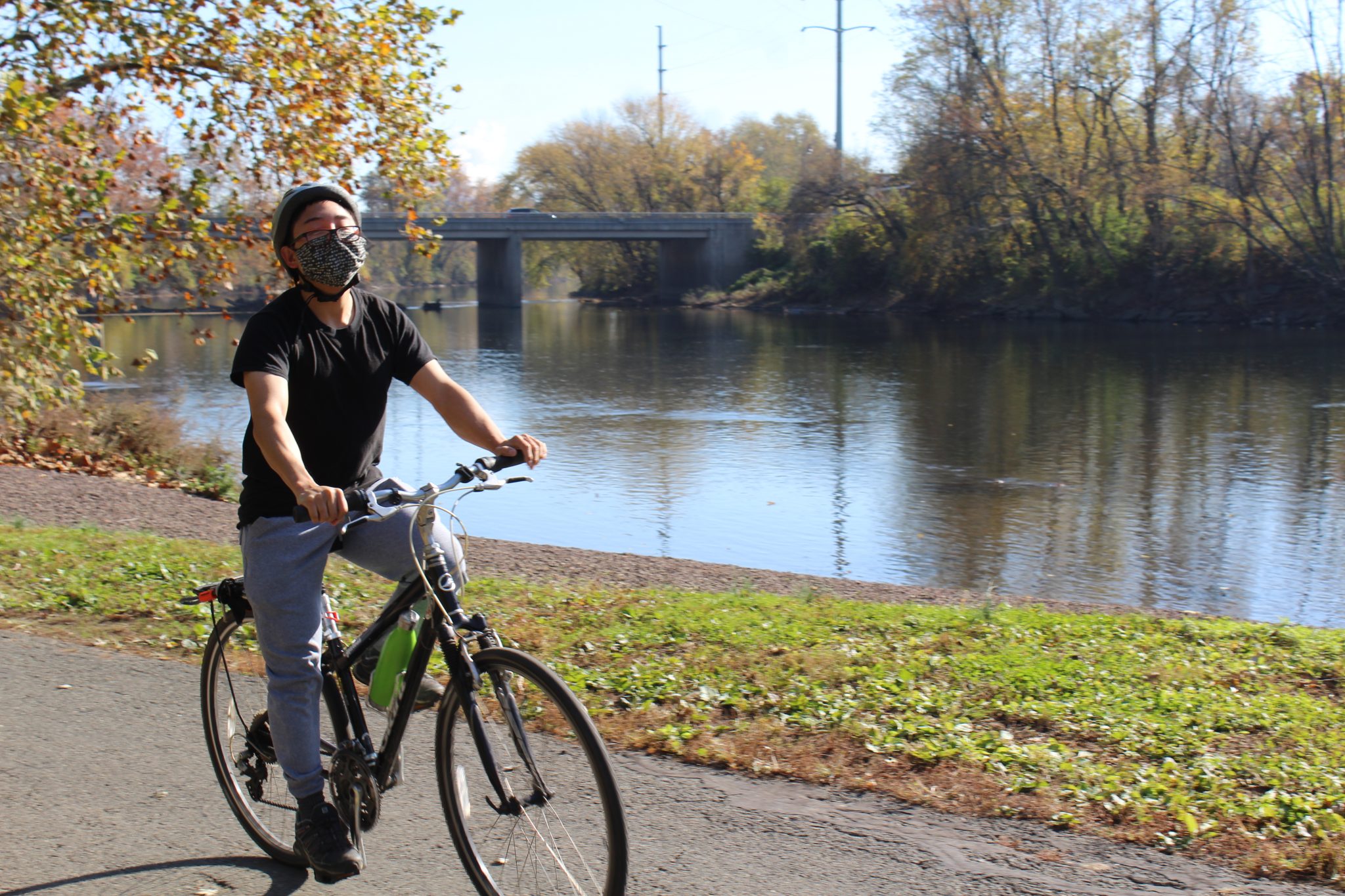 The Schuylkill River Trail (SRT), is a multi-use path that will extend 120 miles from Frackville in Schuylkill County, through Montgomery, Chester and Berks Counties to Philadelphia. The trail passes through rural, agricultural, suburban, urban, and industrial landscapes. Most of the trail is built over abandoned railroad lines.
CLICK HERE TO LEARN MORE ABOUT THE SRT
CLICK HERE TO VIEW THE INTERACTIVE SRT MAP
CLICK HERE TO LEARN MORE ABOUT BIKING ON THE TRAIL 
Using the SRT Safely During COVID
All sections of the Schuylkill River Trail are open to the public but park amenities may be closed due to the COVID-19 pandemic. Get the most current information about each trail section through our Trail Partners Page. Please continue to check county and local municipality recreation websites for updates on the status of public facilities in your area. Notices about closures and other guidelines concerning the coronavirus disease are constantly evolving.
CLICK HERE TO CHECK STATUS OF EACH TRAIL SECTION 
Support the SRT with a Membership
Your membership donation supports the Schuylkill River Trail and the many other projects and programs that benefit the entire Schuylkill River region. Schuylkill River Greenways works with partners to improve trail access, create a uniform sign system, and improve trail amenities. The nonprofit operates and maintains more than 30 miles of the trail in Berks and Schuylkill Counties. Maintenance and upkeep along these sections of the trail are done by volunteers. Help us build and complete the Schuylkill River Trail.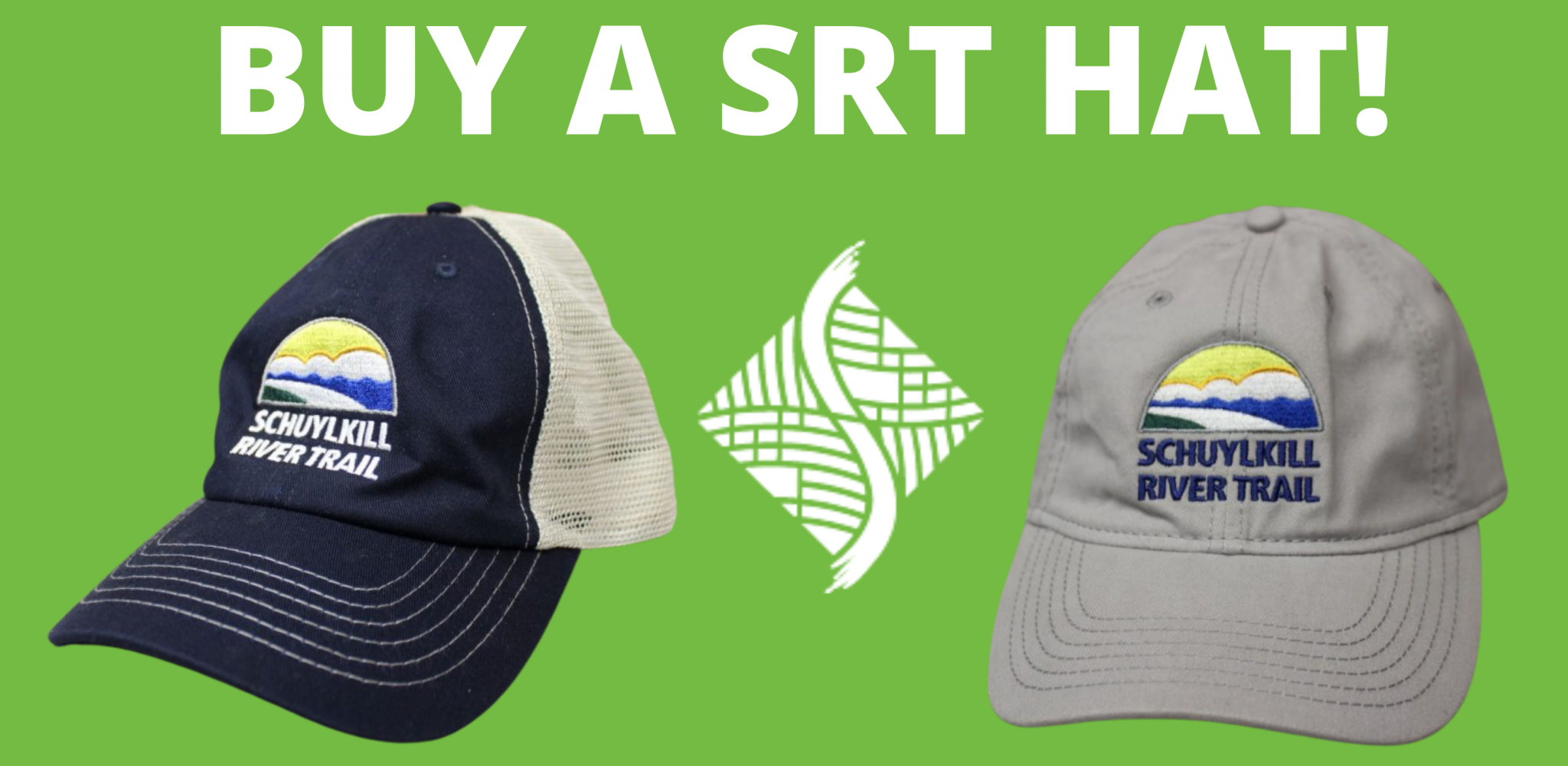 Celebrate Trails Day and show your support of the SRT by buying a Schuylkill River Trail Hat! Click Here to visit the SRG Online Store. 
Get Ready to Celebrate Trails Day 2021
You can find how-tos and other resources to help you plan solo, family- and household-friendly, virtual, and other outdoor adventures on RTC's Celebrate Trails Day website that allow you to #RecreateResponsibly. Plus, there will be opportunities to win awesome trail gear and other prizes.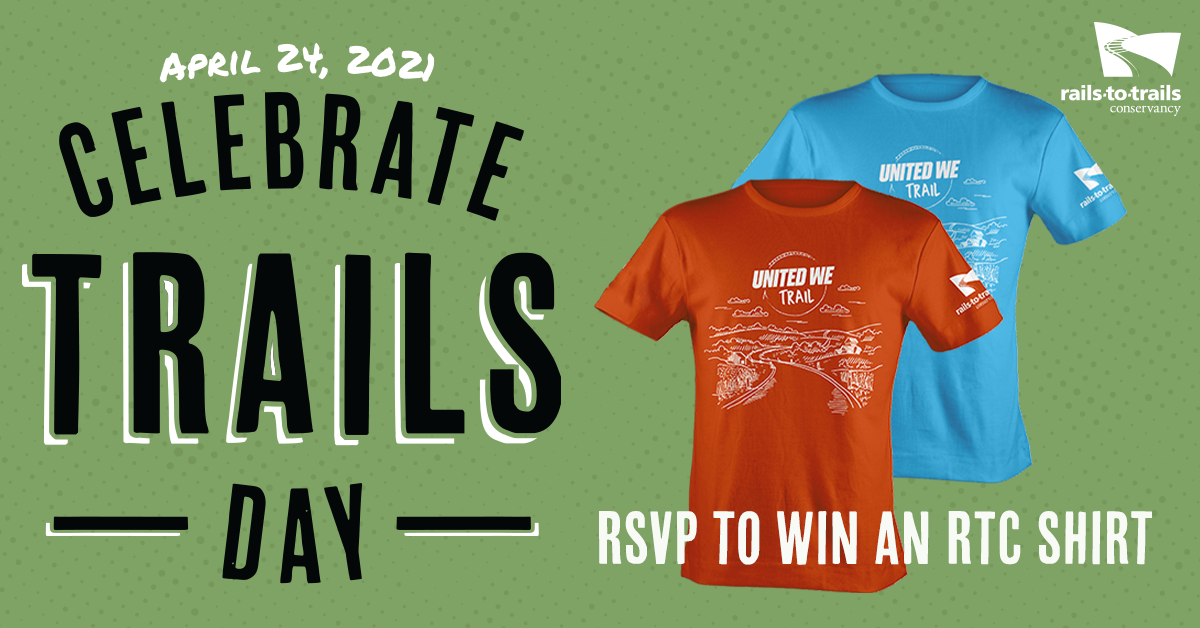 RSVP that you'll be visiting the Schuylkill River Trail on Celebrate Trails Day! By doing so, you'll help show that you value the trails in your community—plus, you'll have a chance to win an RTC T-shirt. RSVP NOW!