At Schuylkill River Greenways, we know how much you love your trail.  Not just "the" trail, although a 120 mile trail that takes you from Coal Country to the City of Brotherly Love is pretty amazing.  We mean your trail: the hike with your kids, your early morning biking route, your moment of peace away from it all, or your commute to work.
We get it, we love our trail, too.
We want to make every mile of trail accessible, safe, and fun.
And we need your help to do that so we are embarking on a new effort to raise a
$5 million Stewardship fund.
Our generous grant funders, corporate sponsors, and individual donors enable us to do so much, but the increasingly common large-scale maintenance, repair, and upgrade projects required to keep the SRT open, accessible, and safe make it difficult to move forward with the trail completion in Schuylkill and Berks County. When a sinkhole happens (and happens and happens) we are committed to remediating the damage and getting the trail safe and usable, and other projects get pushed back over and over.  The Stewardship Fund will provide the resources necessary to both move forward with trail completion, and keep up with all the maintenance and emergency issues that inevitably happen.
We know this is an ambitious goal, but we also know it's attainable and necessary.
We know that you love your trail and want to be part of the completion and life of the trail through your gift to the Stewardship Fund.
Please Join us today, with a one time donation or an ongoing pledge of support.
Our Stewardship Fund in the news!
Reading Eagle
Schuylkill River Greenways has a plan to complete trail in Berks
The organization unveiled a plan to complete the Reading-to-Hamburg portion of the Schuylkill River Trail.
Reading Eagle May 10 Feasiblity Study Article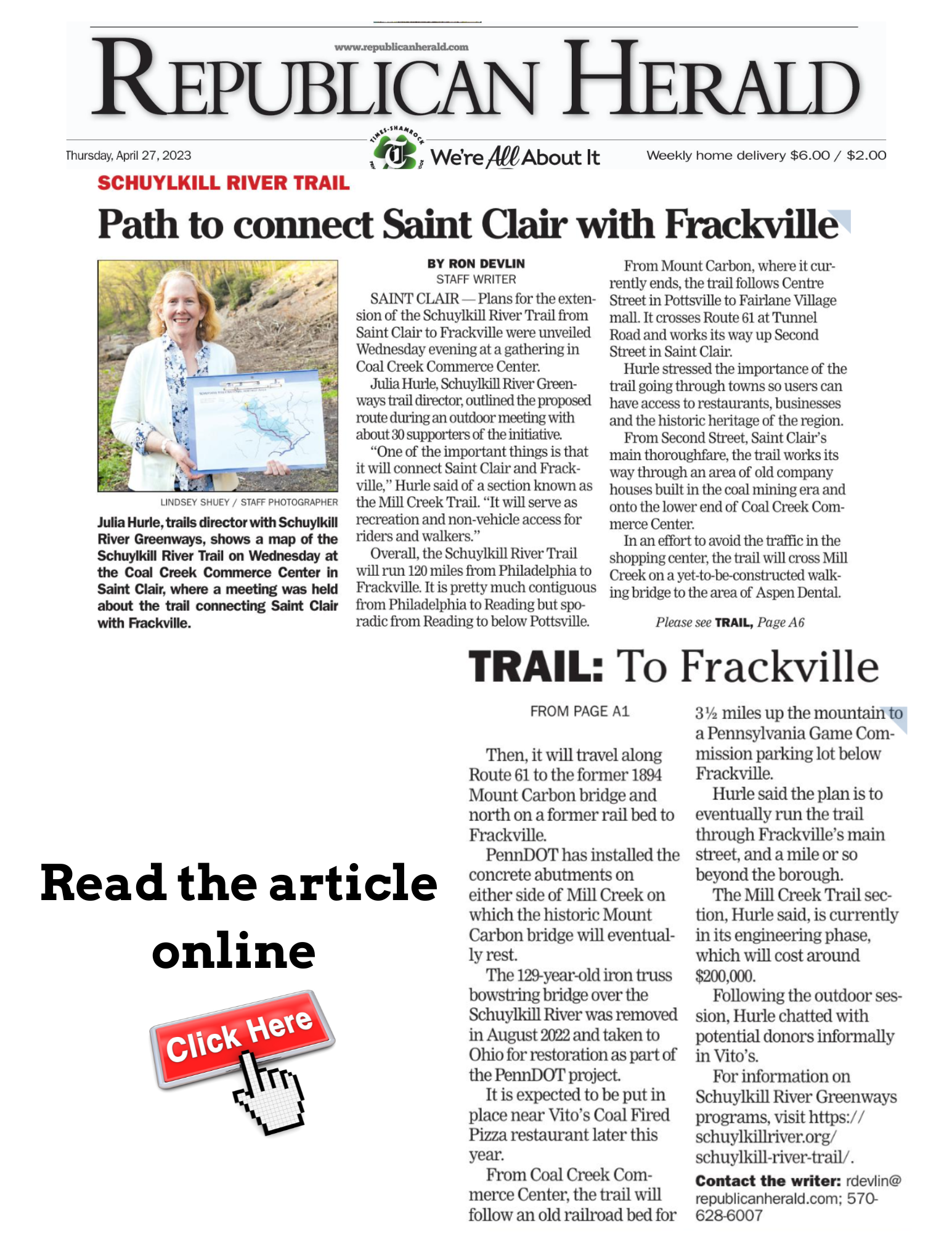 Interested in finding out more about what your donation can do?  Download our Info sheet to learn about specific needs that will be addressed with the Stewardship Fund: