Celebrate Earth Day with SRG
"Now is the time for the unstoppable courage to preserve and protect our health, our families, our livelihoods … together, we must Invest In Our Planet."
- EarthDay.org
Communities around the world will celebrate Earth Day on April 22, 2022. The first Earth Day was held on April 22, 1970, when 20 million Americans protested against environmental threats. It helped launch the modern environmental movement which included the Clean Air, Clean Water and Endangered Species Acts. CLICK HERE to learn about the role the Schuylkill River played in the Environmental Revolution.
Find & Record Cleanup Events this Earth Day with the CleanSweep Phone App
CleanSweep is a smartphone app and web-based dashboard designed to engage volunteers in cleaning up the Schuylkill River Watershed! There are several easy-to-use features: 
Learn More About CleanSweep
SRT Spree Weekend (April 22 - 24)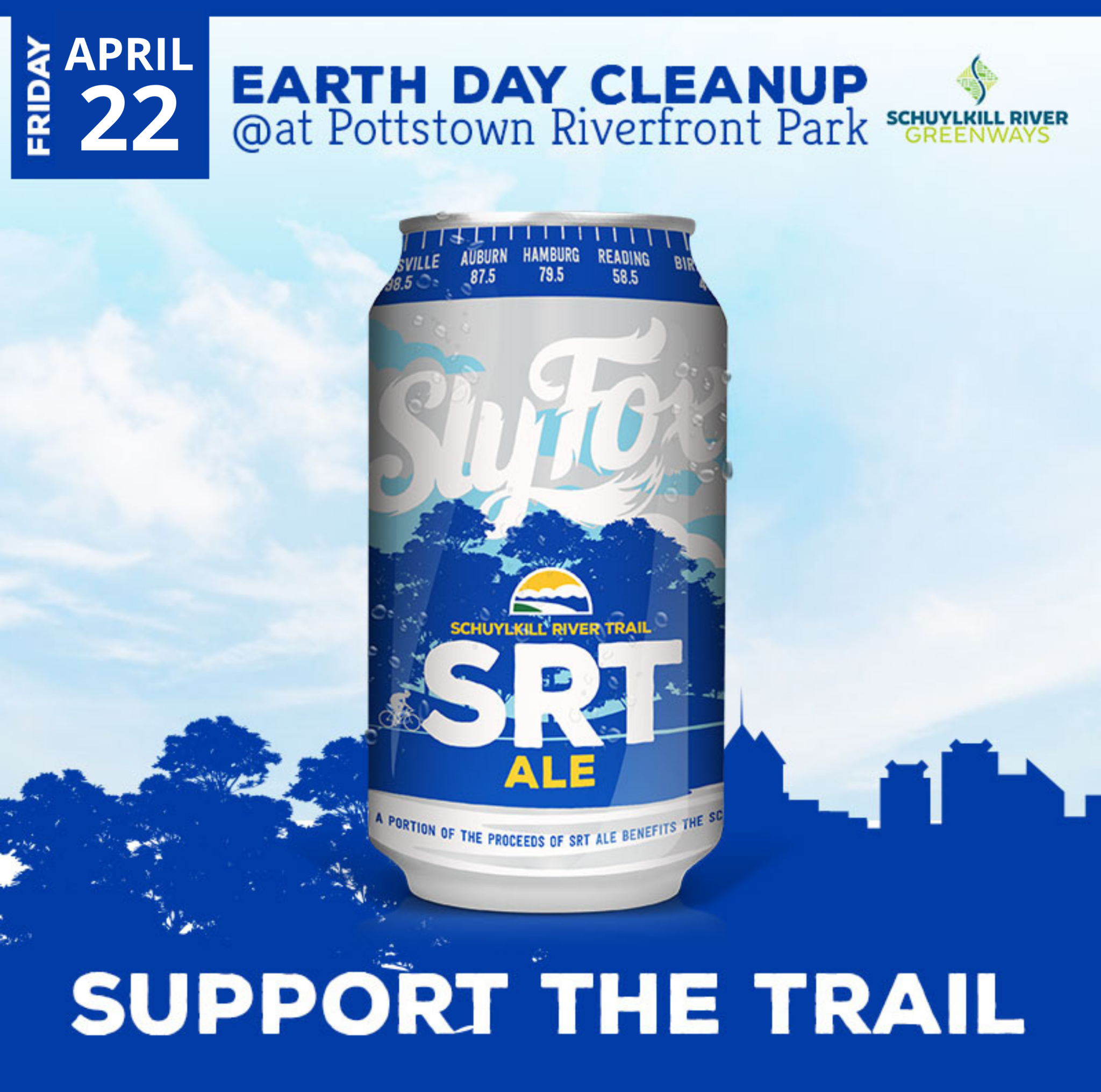 Schuylkill River Greenways, in partnership with Sly Fox Brewery, will celebrate Earth Day, Celebrate Trails Day and SRT Ale with trail cleanups along the Schuylkill River Trail on April 22, 23 and 24. Proceeds from SRT Ale support the Schuylkill River Greenways NHA to promote, improve and maintain the trail.
Celebrate Finish of Chesco SRT Section on April 22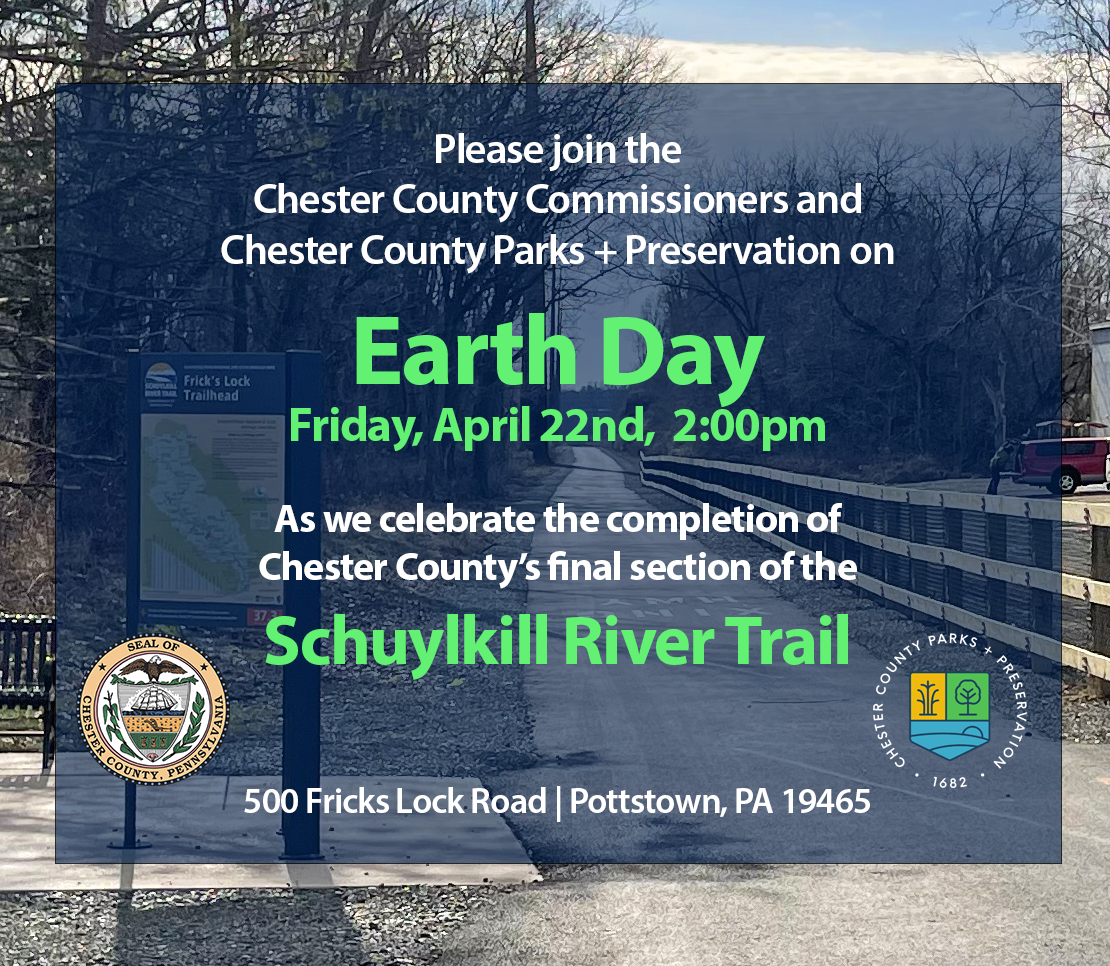 Fricks Lock Ribbon Cutting & Celebration
Join Schuylkill River Greenways and Chester County on Earth Day (April 22, 2022) to celebrate the completion of Chester County's final section of the Schuylkill River Trail. There will also be a tour of Fricks Lock Village and a group bike ride.
Chester County's SRT Phase II Project
An integral section of the Schuylkill River Trail is expected to be completed in the next year. The project is the construction of a shared-use trail between Linfield Road in Parker Ford and the U.S. 422 bridge over the Schuylkill River in Pottstown.
Final touches are being made to the Chester County Schuylkill River Trail section between Linfield Road in East Coventry Township (Parker Ford) and the Rt. 422 Bridge in North Coventry Township. This section is still an active construction zone and closed to the public. The connection over the river into Pottstown is being done by Montgomery County and will be complete in spring 2024.
SRT Opening Trails Day Cleanup on April 24th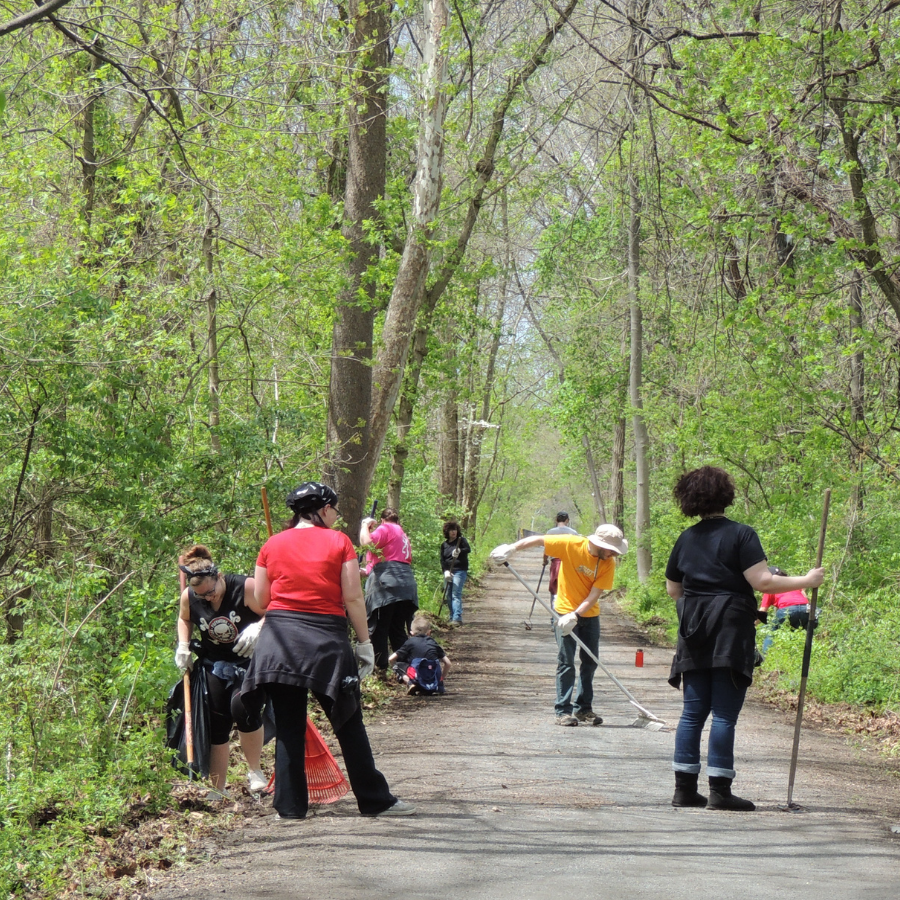 Celebrate Opening Trails Day Weekend with a Schuylkill River Trail cleanup at Fork & Ale on April 24th from 2 to 4 p.m.. Fork & Ale is a Schuylkill River Trail adopt-a-trail member and the cleanup will be on this specific section of the trail in Union Township, Berks County.
After the cleanup, Fork & Ale will offer everyone a complementary beverage, or a can of beer (for age appropriate volunteers) from New Trail Brewery. There will also be brewery giveaways!
CLICK HERE TO REGISTER AS A VOLUNTEER
Explore with the SRG Junior Ranger Program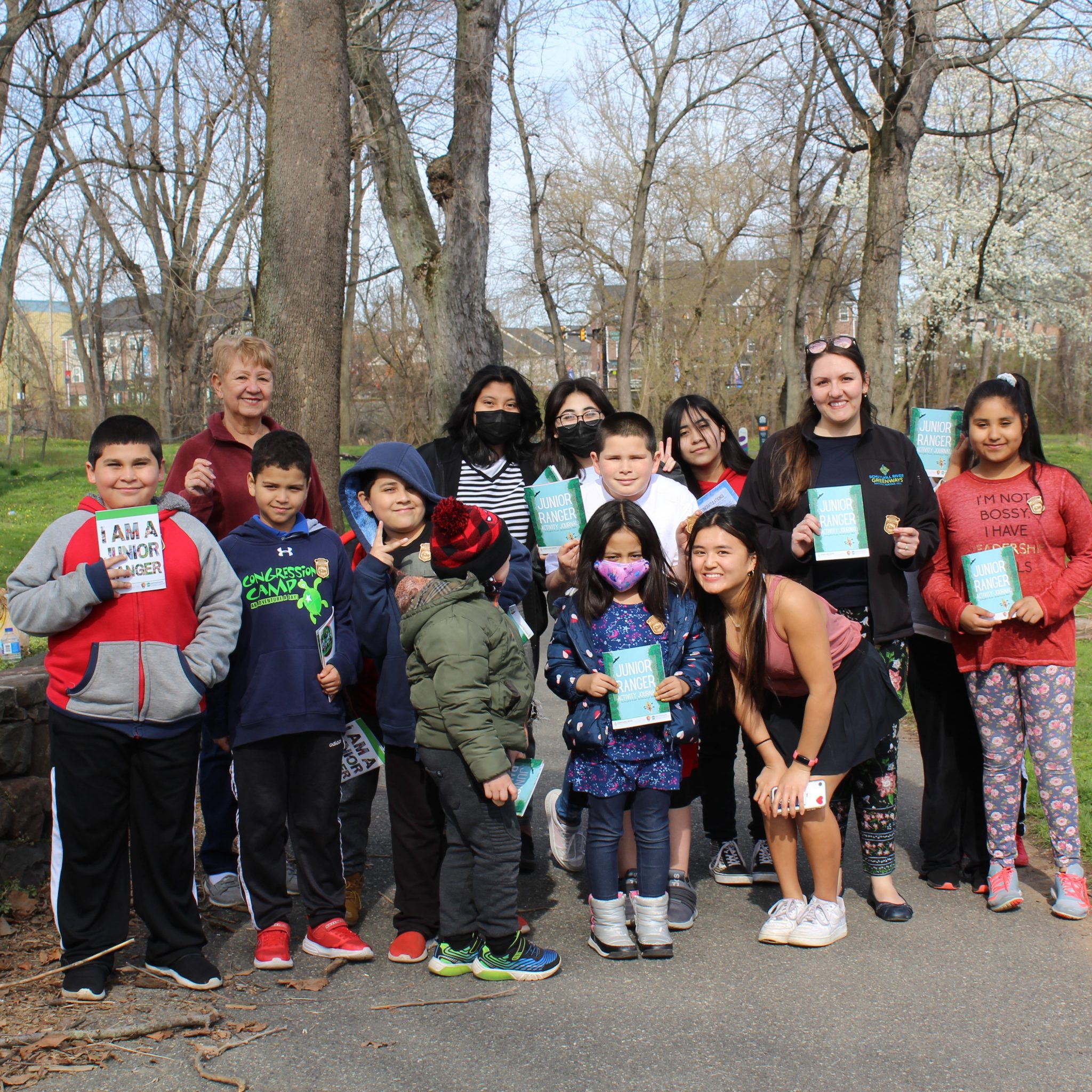 The Junior Ranger Program is part of the National Park Service meant to connect kids from anywhere within the U.S. with nature. Kids complete a series of activities to earn the title Junior Ranger. 
Celebrate Trails Day is the perfect opportunity for children and families to explore the region, river, and trail. The NEW Schuylkill River Greenways Junior Ranger Program can be done anywhere within the heritage area (Philadelphia, Montgomery, Chester, Berks and Schuylkill Counties). This includes along the Schuylkill River and Schuylkill River Trail! 
Document Litter Along the River
BECOME A COMMUNITY SCIENTIST!
No training required! Find a spot on the Schuylkill River and visually assess any debris or dumping along a 100-foot stretch of its riverbanks. It only takes 5 minutes. Use your mobile device to simply record the trash accumulation or dumping points via a user-friendly form accessible from a cell phone
Conduct 5-min litter assessments!
Go to a spot on the Schuylkill River.
On your phone, open: bit.ly/litterform
Select your location on the map
Upload a photo
Rate a 100-foot section and submit!
Plan a Trip on the SRT
The Schuylkill River Trail (SRT), is a multi-use path that will extend 120 miles from Frackville in Schuylkill County, through Montgomery, Chester and Berks Counties to Philadelphia. The trail passes through rural, agricultural, suburban, urban, and industrial landscapes. Most of the trail is built over abandoned railroad lines.
CLICK HERE TO LEARN MORE ABOUT THE SRT
CLICK HERE TO VIEW THE INTERACTIVE SRT MAP
CLICK HERE TO LEARN MORE ABOUT BIKING ON THE TRAIL 
Pollinator Pledge, Native Flower Seed Balls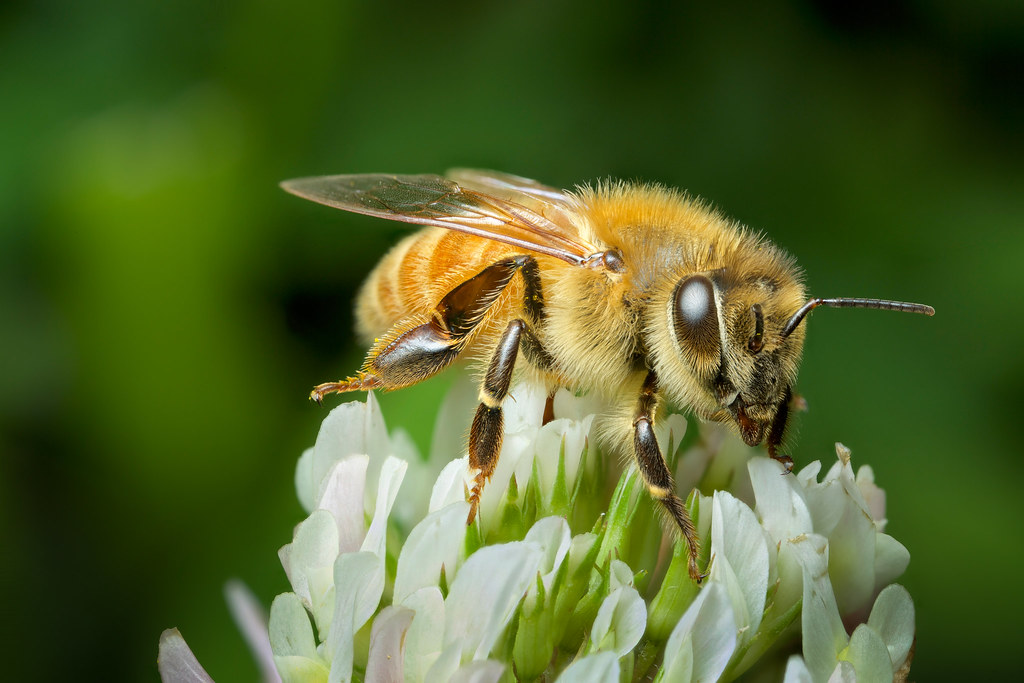 TAKE THE POLLINATOR PLEDGE
This week, we're celebrating Earth Day. It's the perfect time to take the POLLINATOR PLEDGE. Pollinators are responsible for 1 out of 3 bites of food we take each day, however their population numbers are declining.
🐝 Create a pollinator garden
🌸 Plant native species when landscaping
☣️ Eliminate the use of pesticides
Learn more ways on how you can take the pledge through our "Operation Pollination" page at SchuylkillRiver.org/Pollination. 
MAKE DIY NATIVE FLOWER SEED BALLS 
Seed balls are marble or gumball-sized balls made of clay, soil, and seeds that are used to replant areas where the natural flora has been destroyed. Once dry, the seed balls can be thrown in open fields and lots to help replant abandoned areas with native flowers that support pollinator species such as bees, butterflies, and birds. For instructions on how to make your own seed balls at home click the image to the left or the link below.