Trail Alerts
Schuylkill River Greenways manages the Schuylkill River Trail in Berks and Schuylkill Counties, but sections in other counties are managed by trail partners. For the latest updates about sections managed by our partners, please CLICK HERE for their contact information. 
Beginning Monday, September 11th, a section of the SRT that is adjacent to the Flat Rock Dam project site will be closed.  Click below for more information.  
At Schuylkill River Greenways, we work closely with all our trail partners to keep every mile of trail, from Philadelphia to Schuylkill County, safe and accessible.  Of course, this means repairs and regular maintenance which sometime result in parts of the trail being closed.  Here's where you come in-first, you can check the TRAIL ALERTS above before heading out. This way, you will know if your favorite section (or a brand new one) has any obstacles or issues.
View The Interactive Map
Welcome to the Schuylkill River Trail, a multi-use path that will extend 120 miles from Frackville in Schuylkill County, through Montgomery, Chester and Berks Counties to Philadelphia. It travels through the historically rich region of southeastern Pennsylvania. The trail passes through rural, agricultural, suburban, urban, and industrial landscapes. The Schuylkill River (pronounced SKOO-kill), Dutch for Hidden River, is where the American, Industrial and Environmental Revolutions were born.
Most of the trail is built over abandoned railroad lines. Today, over 75 miles of paved and crushed stone trail are open to the public. Along its path, trail users can see evidence of several centuries of industrial development, canal navigation, railroad transportation, quarrying of limestone and iron ore, and the production of iron and steel.
OPERATING HOURS
The Schuylkill River Trail is open every day from sunrise to sunset.
IN AN EMERGENCY
Call 911 and provide them with the "Help Locator Number" or Mile Number found on mile posts and trailhead signs.
Trail Safety Tips
Please keep these trail safety tips in mind when using the Schuylkill River Trail
Use the trail only from sunrise to sunset. The trail is closed at night. 
Tell someone when and where you're going on the trail.
Carry a cellphone to use in distress.
Avoid headphones that block sound so you can hear others approaching.
Carry ID with contact and medical information.
Check your bike regularly. Make sure the tires are full, chains are greased, and the brakes are tight.
Be alert for downed branches and other hazards.
Come to a full stop at intersections and use caution proceeding.
For more tips about staying safe on your bike, CLICK HERE. 
For more tips about staying safe while hiking, CLICK HERE. 
View Trail Etiquette Rules
Please remember these trail etiquette rules when using the Schuylkill River Trail. 
Watch your speed - cyclists should pass on the left.
Announce your approach to other trail users.
Dogs must be kept on a 6 foot leash AND under control.
Owners are responsible for cleaning up pet waste.
No littering - please practice "Carry In - Carry Out".
Cyclists and rollerbladers should wear a helmet.
No unauthorized motor vehicles allowed on the trail.
And most importantly...Be courteous to other trail users and trail neighbors.
Connecting the Trail
The Schuylkill River Trail (SRT) is owned, managed, maintained and developed by a number of organizations who have come together to form the Schuylkill River Trail Partners. Until several years ago, the Schuylkill River Trail existed in unconnected sections known by the names given to them locally. Enormous efforts have been made to connect these sections, close gaps, create a unified sign system and promote the trail as a single entity. This work continues with plans to close several remaining gaps, and to extend the trail in Philadelphia at the lower end and in Schuylkill County at the upper end.
Current Trail Projects
SRT FEASIBILITY STUDY & SURVEY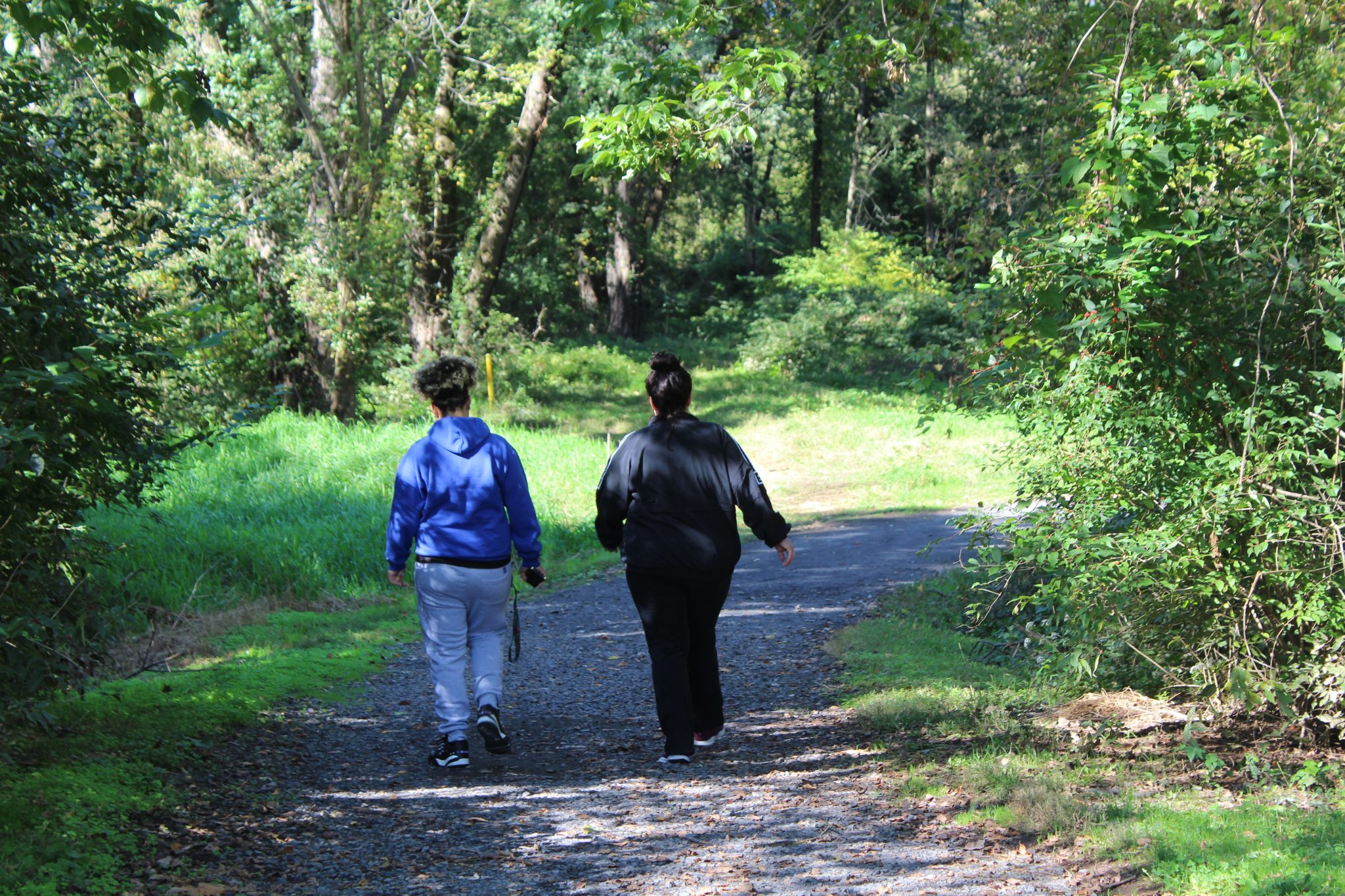 Schuylkill River Greenways (SRG) has started the Northern Berks County Feasibility Study to determine the best route for the Schuylkill River Trail from Reading to Hamburg. Throughout this process, SRG will invite the community to public meetings for comments and questions. The community is also asked to complete a survey about the trail and how they would like to use it. 
Support the SRT
Your membership donation supports the Schuylkill River Trail and the many other projects and programs that benefit the entire Schuylkill River region. Schuylkill River Greenways works with partners to improve trail access, create a uniform sign system, and improve trail amenities. The nonprofit operates and maintains more than 30 miles of the trail in Berks and Schuylkill Counties. Maintenance and upkeep along these sections of the trail are done by volunteers. Help us build and complete the Schuylkill River Trail.
Become a Member
Become a Volunteer
Voted One of the Best Riverwalks in Nation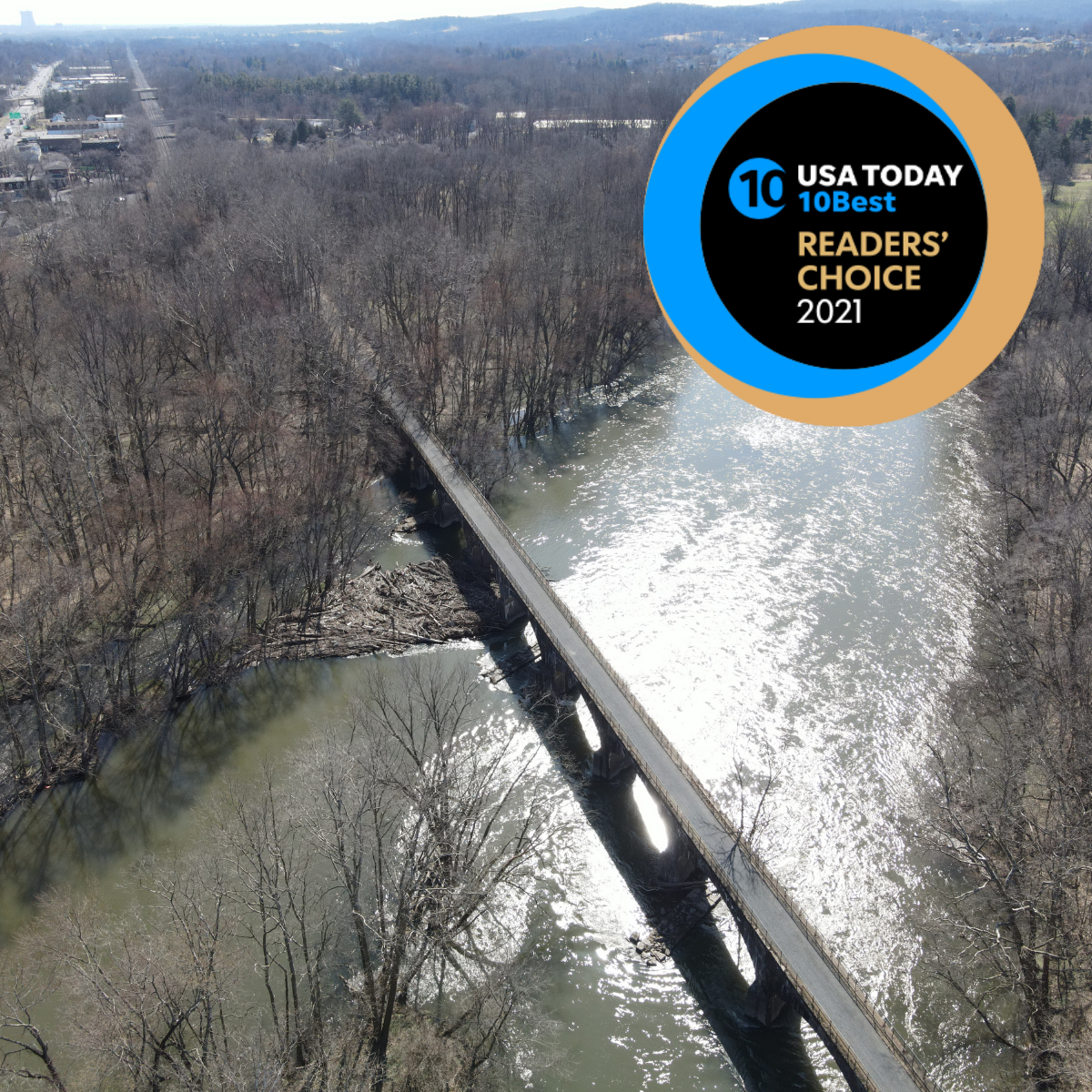 The Schuylkill River Trail is a winner in the 2021 USA TODAY 10Best Readers' Choice Contest for Best Riverwalk. The SRT came in third place. The trail was also selected as a top trail to visit in Pennsylvania on the 2021 Rails-to-Trails Conservancy blog. In 2015, the Schuylkill River Trail took first place as the Best Urban Trail in USA Today's 10 Best Readers Choice poll.