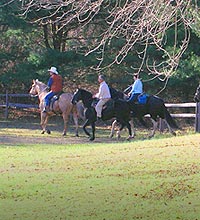 Equestrians will find plenty of opportunities to mount their steed and head out on the trail throughout the Schuylkill River Greenways National Heritage Area. There are several bridle and horse-friendly trails through regional parks and wonderful stables, rings, and riding facilities in many parts of the Heritage Area.
You'll also find a number of hunts, shows, and other equestrian events throughout the year.
Where to ride
Chester County is particularly well known for its horse country. Historic farms and lush fields boast one of the nation's largest horse populations and some world class facilities and events. The Horseshoe Trail between Valley Forge NHP and Hershey is a beautiful backcountry and side road trail that is popular with riders. There are several hunts and riding events throughout the year as well including the Ludwig's Corner Horse Show, and the storied Devon Horse Show.
Philadelphia's Fairmount Park is also a horse lover's dream. The Chamounix Riding Center, Belmont Stables, and Forbidden Drive are popular places for riders in this urban oasis.
In Montgomery County, the Perkiomen Trail is a beautiful ride. The 20-mile mixed use trail connects Green Lane Park, Lorrimer Park, and Lower Perkiomen Valley Park.
Riders in Berks County will find riding opportunities at Blue Marsh Recreation Area and along the Bartram Trail section of the Schuylkill River Trail.