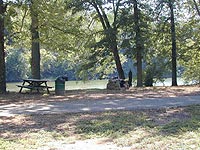 Enjoying a meal outdoors on a warm summer afternoon can be an incredibly relaxing experience. But you might also want to get your entire family together for a BBQ at one of the region's many picnic groves or State Parks. No matter the type of meal you're planning to enjoy or the company with which you will share it, there are plenty of opportunities for you to dine outdoors.
Things to remember
Alcohol is not permitted in any State Park
Remember to bring foods that won't spoil if left unrefrigerated
Make sure that all trash is placed in the proper receptacle when finished. Take all waste with you when picnicking in the woods.
Check with the site where you intend to picnic to find out if reservations or permits are necessary.