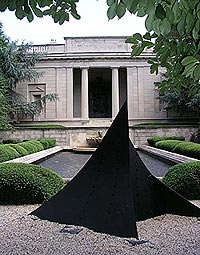 The cultural offerings in the Schuylkill River Greenways National Heritage Area are almost immeasurable. World class art museums, public art, cultural centers and performing arts venues are around almost every turn.
Museums and galleries
The Philadelphia Museum of Art, Reading Public Museum, Barnes Foundation, and many other world class facilities display priceless works of art that attract international attention. Visiting these places once is almost never enough, as many venues offer unique traveling exhibitions and special programs that will keep you coming back time and again.
Folk and traditional arts
The diverse ethnic communities that give the Heritage Area such a unique flavor and appearance, also make the region a stronghold for folk and traditional artists. Pennsylvania German redware potters, Ukrainian pisanki (painted Easter eggs) painters, and Mennonite quilters add a unique dimension to the region's cultural scene. Many artists sell their wares at the region's fairs and festivals and at local museum shops and galleries.
Not the same old song and dance
Music is an incredibly important part of the Schuylkill River Heritage Area's cultural tradition. The Irish community boasts a number of dance troupes up and down the river. Schuylkill County is home to one of the region's most celebrated Ukrainian folk ensembles, and square dancing is alive and well in many communities across Berks County.
Art for the future
The heritage area is home to a number of arts centers and districts that support the work of contemporary artists. The GoggleWorks Center for the Arts in Reading, the Phoenix Village Arts Center, and Chester Springs Studio are wonderful examples of community efforts to promote creativity and beauty in our communities.
Art in Plain View
Artists from around the world have shared their talents with the public by creating outdoor works of art across the region. Fairmount Park alone boasts over 700 pieces of public art. There are sculptures and statuary in public parks, along the water, and along trails throughout the Heritage Area.